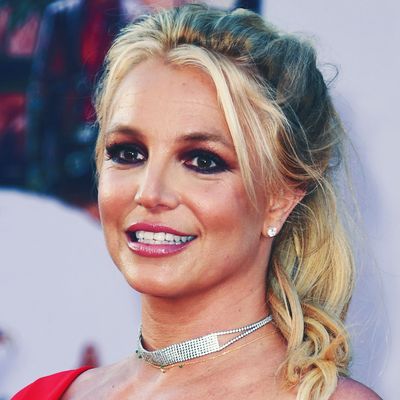 Hello!
Photo: Valerine Macon/AFP via Getty Images
Guess who will be speaking in the ongoing legal saga that is the Britney Spears conservatorship case? Is it … some attorneys? Yes, but that's not who I mean. Is it … Jamie Spears, her father and the longtime custodian of her adult life?? Not today, Satan. No, drumroll please, it's Britney, bitch! Britney herself will finally say some words on the complex legal arrangement her fans have scrutinized for more than a decade.
According to the New York Times, Britney's attorney — Samuel D. Ingham III — made the request of Judge Brenda Penny at a routine meeting on Tuesday. "The conservatee has requested that I seek from the court a status hearing at which she can address the court directly," he said, adding that she would like to make her statement on an "expedited basis." The judge granted the request, scheduling Britney's next day in court for June 23, with a follow-up in July.
This is a huge development, considering Britney has largely remained silent on the conservatorship for the 13 years it has been in place. Her father and an attorney enacted the arrangement in early 2008, following a series of emotional, high-profile incidents that culminated with her family placing her on involuntarily psychiatric hold. Since then, she has not exercised control over her professional life, nor over her finances. Although details have remained private, some of her fans believe her father leveraged an unusual legal maneuver to hold her fortune hostage.
Thus the "Free Britney" movement, which sprouted up more or less as soon as the conservatorship fell into place and which has gained so much traction over the course of the past year that the New York Times threw a spotlight on the case in its investigative docuseries. After that episode — entitled "Framing Britney Spears" — premiered in February, Britney's boyfriend, actor and model Sam Asghari, came right out and called Jamie Spears a "total dick," adding that he had "zero respect for someone trying to control our relationship and constantly throwing obstacles our way." Britney took longer to address the program, but when she eventually did, late last month, she said she "cried for two weeks" because she was so "embarrassed by the light they put [her] in."
So! Who really knows what Britney currently thinks of the guardianship, or the movement around it? Right now, it seems clear that she wants Jamie removed from the situation entirely — she has been working to have him permanently replaced as conservator, Ingham arguing in November that she is "afraid of her father" — but beyond that, she has kept her thoughts largely to herself. Therefore, we welcome this opportunity for her to share them, in whatever capacity she choses to. And while we wait: A big hell yeah for Brenda Penny; thank you, Brenda Penny.