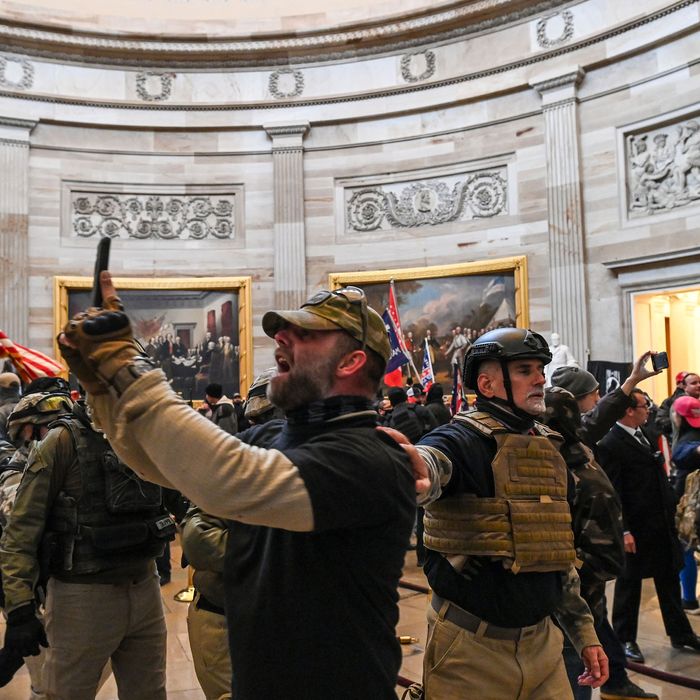 Photo: Saul Loeb/AFP via Getty Images
There are already so many treacheries to navigate while using an online dating app. A sea of men "not looking for anything serious"; those posing with tranquilized safari animals; the odd "Jim Halpert looking for his Pam" (have you watched any other television in ten years???); and actual thieves. Now we can add Capitol rioters to the list — after a Bumble user found one eagerly boasting in her DMs, and turned him in.
The Justice Department has charged New York resident Robert Chapman with four misdemeanors, including disorderly conduct on Capitol grounds, after the FBI got a tip from one of his Bumble matches. The user sent them screenshots of her rather memorable conversation with Chapman after they matched on the Bumble app.
About a week after the January 6 Capitol riot, in which thousands of armed, violent Trump supporters stormed the halls of Congress, Chapman bragged to this person on Bumble that he "did storm the Capitol" and said that he "made it all the way into Statuary Hall." After the user succinctly replied, "We are not a match," they forwarded the tip to the FBI, who promptly matched Chapman's profile with body-camera footage from police present that day. (In addition to his Bumble bragging, Chapman apparently wrote on Facebook that he was headed to the "District of Criminality," and on the day of the attack posted, "I'M F—IN INSIDE THE CRAPITOL.") Chapman has not yet entered a plea in response to the charges.
Now here is an even darker thought than imagining being on a date with a Capitol rioter: For some users, this unfortunate overture would have worked. Shudder.