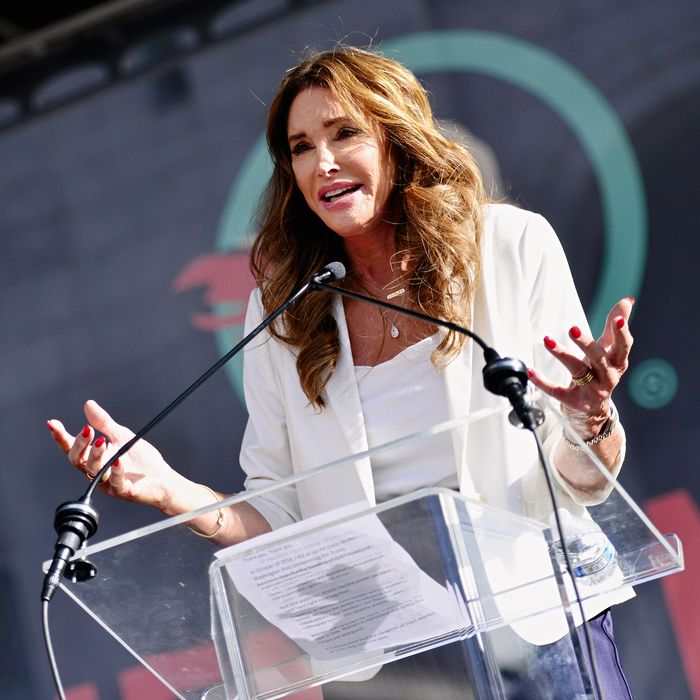 Can Caitlyn Jenner follow Arnold Schwarzenegger's celebrity path to the governorship? It's unlikely.
Photo: Chelsea Guglielmino/Getty Images
Former Olympian, Kardashian-adjacent reality-TV personality, and transgender rights activist Caitlyn Jenner has confirmed rumors that she is entering the likely contest to replace California governor Gavin Newsom if he is recalled by voters later this year. According to Axios, she'll make it official with an announcement event and a paperwork filing. Her Twitter account is already campaign-ready:
The 71-year-old Jenner is a longtime Republican who is surrounding herself with figures from Trump World, although her gender identity and "socially liberal" views make her an unlikely object of MAGA devotion:
She's assembled a team of prominent GOP operatives including Tony Fabrizio, the top pollster on Donald Trump's 2016 and 2020 campaigns, and Steven Cheung, a former Trump White House and campaign communications hand who worked on Arnold Schwarzenegger's successful 2003 recall campaign …




Trump's former campaign manager Brad Parscale, a personal friend of Jenner's, has helped her assemble her team but doesn't plan to take an official title on the campaign. 
What we can discern of Jenner's message so far reflects standard-brand
Republican complaints about high taxes, COVID-19 lockdowns, and "one-party" Democratic rule in Sacramento. But quite obviously celebrity — and curiosity — will be the jet fuel of her campaign. A campaign adviser tells Axios that Jenner has greater name ID than Newsom and can command the kind of earned media that "will go to every possible demographic you could think of." And it probably doesn't hurt her in California that Trump (whom she criticized for his administration's regulatory stance on transgender bathroom access) will likely keep his distance from her campaign.
She will need to convince voters that she's had all the publicity she needs or wants and has serious plans for the state. But it will be an uphill climb to a respectable candidacy, even for a former gold-medal-winning Olympic decathlete.