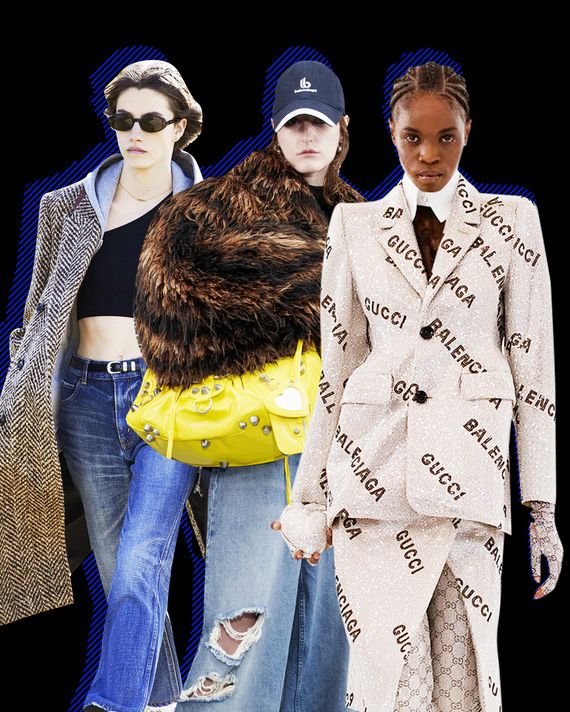 Left to right: Celine, Balenciaga, Gucci.
Photo-Illustration: by The Cut; Photos: Courtesy of Celine, Balenciaga, Gucci
Collaborations in fashion are generally in aid of commerce. One brand is getting something from another — street cred, buzz — and everyone is counting on the public to mindlessly lap it up, to not care about the cravenness of the idea. One exception was the 2020 collection of Dries Van Noten and Christian Lacroix, which nobody saw coming. Although Lacroix's imprint is all over fashion — in the juicy colors, in the theatrical gestures of a pouf sleeve or a belled skirt — he is the almost tragic example of a gifted couturier done in by commercial pressures. So people were thrilled to see what he would cook up with Van Noten.
Last week, as the fall 2021 collections continued, Gucci insisted that its use of the Balenciaga logo — often co-mingled with Gucci's on a suit or accessory — and some of its key designs was not a collab, but rather, "a hack," done with the approval of Balenciaga's creative director, Demna Gvasalia. Even Francois-Henri Pinault, the chairman and chief executive of Kering, which owns both brands, weighed in, suggesting that another ivory-tower convention had been broken.
This is hardly true. Designers have been sampling, lifting, hacking for decades. Think of Marc Jacobs's collections based on the work of Pierre Cardin, or Yohji Yamamoto, or Rei Kawakubo. Any designer can co-opt or subvert a label — think of Miguel Adrover's repurposing of a Louis Vuitton Monogram bag for the back of a coat. The fact that Alessandro Michele, Gucci's creative director, chose to hack Gvasalia's work is an acknowledgment of the latter's power. Gvasalia has been flagrant in his use of designs associated with Martin Margiela, like the Tabi boot, and probably, too, he understands that information moves too fast today for a generation to care about the original source of something. They devour and move on.
I can see, from Michele's perspective, that jangling up the Gucci name with Balenciaga's — on a silvery pantsuit, on a pair of dueling chokers — might be regarded as an expression of freedom. And because this year marks the 100th anniversary of the label, it's also a reminder that Gucci now stands for far more than good taste. It's the driving beat or refrain in hundreds, if not thousands, of songs.
But, frankly, in the end, I didn't see the point of the Balenciaga riff except as a publicity vehicle. And Michele didn't expand on one of Gvasalia's most intriguing ideas — the suit jacket with padded hips. He largely left the shape intact.
There's a paradox here: Michele's collection was otherwise delightful, one of his strongest in a while. He shoved aside the kooky, the eccentric, the pseudo-intellectual — which was becoming a bore — and stuck with the big-time glamorous. The beautiful, extremely well-cut pantsuits. A fluffy coat in a bold black-and-white chevron pattern. The feathery and semi-transparent evening looks that verged knowingly on costumes. Even the set, a glossy white space lined with cinematic lights, reasserted Gucci's power. For me, Michele showed that he could marshal his design team in a different direction at a crucial moment. That was more meaningful than a double-logo game.
Felipe Oliveira Baptista, the designer at Kenzo, remarked recently that he wanted "loud, beautiful things." His collection, like those of Stella McCartney and Raf Simons, hovered between lockdown utility (comfy separates and oversized coats) and post-pandemic exuberance expressed in a blast of color and pattern. Many of us share Baptista's longing, yet don't care for the middle ground proposed by some designers. I adored Simons's oversize quilted jackets, for instance, and even his extra-long tunics with matching wide-leg trousers, but I also want to put the puddly shapes of lockdown behind us. I want polish.
That's why I loved Gucci's pantsuits and much of the Celine show. Not only did Hedi Slimane invoke the big three poets of 19th-century France — Verlaine, Baudelaire, and Rimbaud — but he also staged his show in a garden designed by André Le Nôtre, at a chateau not far from Paris. Despite how that sounds, this was not a pretentious "Parade," his name for the collection. In fact, Slimane ticked off a wardrobe that was French in influence — the black leather jacket, the tweed blazer with jeans and cowboy boots — and global in attitude. Somehow, Slimane is looser as a designer when he's showing away from the drill of Paris Fashion Week. The cropped, asymmetrical knit tops that underpinned some of the jackets looked fresh and new, and the rigid bell-shaped party skirts, no doubt inspired by the original crinoline, were a reminder that Slimane's references run deeper than he usually allows on the catwalk. Could this collection mark a shift in his Celine?
I am so eager to see what Gvasalia will do for his first haute couture collection for Balenciaga, which is expected this year. In the meantime, on Sunday, he offered up his pre-fall collection, which featured models against a range of international landmarks, all digitally arranged. Loaded with the tracksuits, hoodies, loose dresses, and oversize coats that have come to represent Balenciaga street staples, the collection was clear and direct, but perhaps lacked the sense of inquisitiveness that has defined Gvasalia's best work.