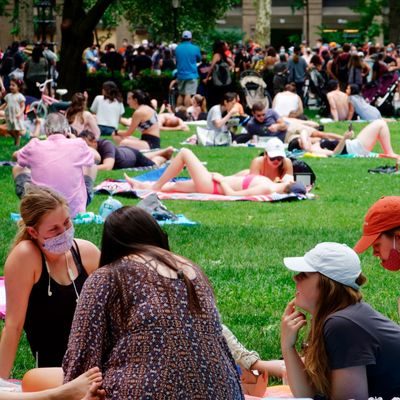 Good luck figuring it out!
Photo: Education Images/Universal Image
With the national vaccination rate continuing to climb — more than 140 million people in the U.S. having received at least their first dose — maybe you are wondering: What will I be able to do once I join the ranks of the fully vaxxed? Last month, the Centers for Disease Control and Prevention began rolling out guidance, allowing those who have completed their coronavirus inoculation cycle to enjoy little indoor hangs and domestic travel. On Tuesday, the agency also cleared this group to bare their naked faces, indoors and outdoors, in small groups settings. According to new guidelines, the CDC also welcomes them to remove their masks while hiking, biking, running, walking, and otherwise exercising outdoors, provided they are alone or with other members of their household. Also! They are now allowed to go maskless while eating outdoors, with and among other people.
Basically, the takeaway seems to be that vaccinated people can safely remove their masks outdoors, provided they aren't part of a crowd.
Given that the CDC already gave fully vaccinated people — which is to say, people who are at least two weeks out from either their second dose of the Moderna or Pfizer vaccines, or their first/only does of Johnson & Johnson — the green light to socialize unmasked indoors, the guidance about outdoor masking feels a bit redundant. But to help you avoid any confusion, the CDC has mocked up a handy infographic that still manages to raise some questions. I, for example, am wondering how the agency conceives of dining as a concept:
In short, the CDC would like everyone, regardless of their vaccination status, to continue exercising caution — practicing social distancing and face-covering — in large public spaces, whether they are enclosed or not. Think: movie theaters, sports stadiums, concert venues, grocery stores, malls, etc. Previously regular indoor activities, such as getting a haircut or going to a museum, become safer for people who have been vaccinated (duh), but the pandemic remains ongoing, so masks are still on the menu. As for medium and large gatherings, the CDC kindly advises everyone to desist for the time being.
Based on the numbers, reasonably spaced, open-air situations do seem low-risk, particularly when vaccine efficacy appears to range from 72 (for J&J) to 95 percent (for Pfizer). Trouble is, you can't tell who is and who is not vaccinated simply by looking at them, which — as the New York Times notes — introduces high potential for interpersonal conflict and suspicion as people begin removing masks in public. For those who want to feel the sun on their chins ASAP, "complexity is the price," University of California, San Francisco epidemiologist George Rutherford explained to BuzzFeed News. But "if you want simple rules, then we just wear masks until every last one of us is vaccinated."