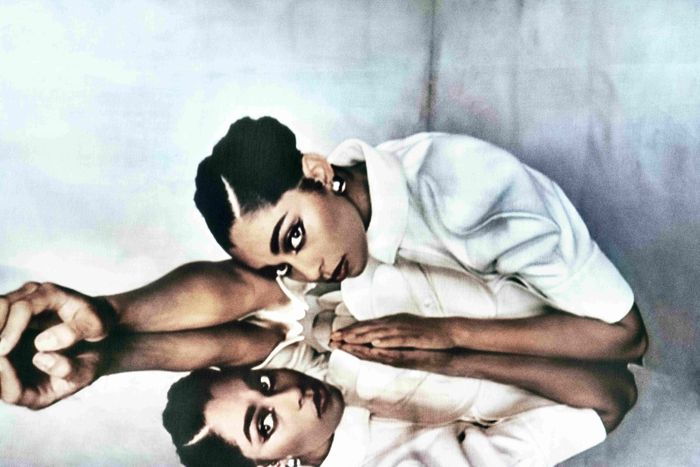 Photo: Elizaveta Porodina
Earlier this year, British artist Celeste released Not Your Muse, an album destined to both uplift and destroy my life in equal measure. Personally, I hadn't heard someone with such striking, soulful vocals that I connected with in such an intense way since I had heard Amy Winehouse or Kelsey Lu for the first time.
Inspired by soul singers like Bettye Swann, Shirley Bassey, and Jackie Shane, the 26-year-old singer's debut covers the span of human experience through heartbreak, joy, and growing up. I'm not the only one who recognizes her star power — in 2020 she was the recipient of the Brit Awards Rising Star award, and she's also a muse of Gucci's. She counts Elton John and Spike Lee as fans. She's also been nominated for both a Golden Globe and an Oscar for "Hear My Voice," the lead single for The Trial of the Chicago 7, an honor that she says she hopes will give her "the opportunity to speak about the things that really matter to me."
In a year where typical album rollouts and live performances still are up in the air, Celeste has a lot to celebrate. She talked to the Cut about releasing her album, what inspires her, and how being mixed-race informs her art.
You've had some time to process the album being out. How do you feel about it now that it has had some breathing room? 
I'm really happy it's out because I think there's only so much that you can do. And also there's so much pressure that you can put on yourself in the lead-up. I think one part of it, which is a little bit underwhelming, is that we're not playing shows at the moment. You're not really seeing the true response to it. It tells you what to do next, what songs to prioritize or perform. I know the songs that I really love and believe in but it definitely helps when you get to play them live to set that in stone.
There's so much in the album — heartbreak and joy. I read in a couple of other interviews that you were inspired by the relationship that you're in. 
I wrote "In the Summer of My Life" in L.A. with Terrace Martin at the beginning of last year, before everything got a bit crazy. In that moment, although I was feeling really grateful for the position I was at in my career, I was also aware that I'd left behind a chapter of myself. So that was a song that was mourning, like, "Am I going to not do all this spontaneous stuff I did from like 16 to 22 anymore?"
There's so many songs on there, like "Ideal Woman" — that was me coming into a place where I could identify and recognize my insecurities and why they hadn't allowed me to trust someone and be in a relationship with someone and be open to them.
There's such a throwback vibe to the album. What kinds of things inspire you? 
As a teenager, the films I was drawn to were the ones that showed some version of a grittier existence, but depicted alongside romanticism and that lens and glaze on it. When I was younger, I was obsessed with Goodfellas, and would be like, "Wow, that's the world I want to live in." And then my mom would be like, "You don't want a gangster as a husband."
Even though I really wanted to watch it when I was like 16, I only recently watched City of God. I've looked to different types of films that have portrayals of white and Black cultures coming together. I think that just comes from a desire to understand myself a bit more, being mixed-race.
My father is Hispanic and my mom is white. I feel like being mixed-race in this world is very confusing. Do you feel like being mixed-race informs your art? 
People always ask me questions addressing me as Black or sometimes white. So then there's kind of that fundamental thing missing. People have asked me before if it influences my work and I felt like I had to say yes. And then I really think about it — I don't know if it has. I didn't spend that much time around my dad because my parents broke up when I was young. So I didn't have that much personal interaction where I could really understand his culture or background. Speaking to him like every now and again did further my intrigue into wanting to understand the culture. And it gave me a chance to be able to understand it without people being judgmental, like thinking that I'm trying to grasp on to something that isn't my own.