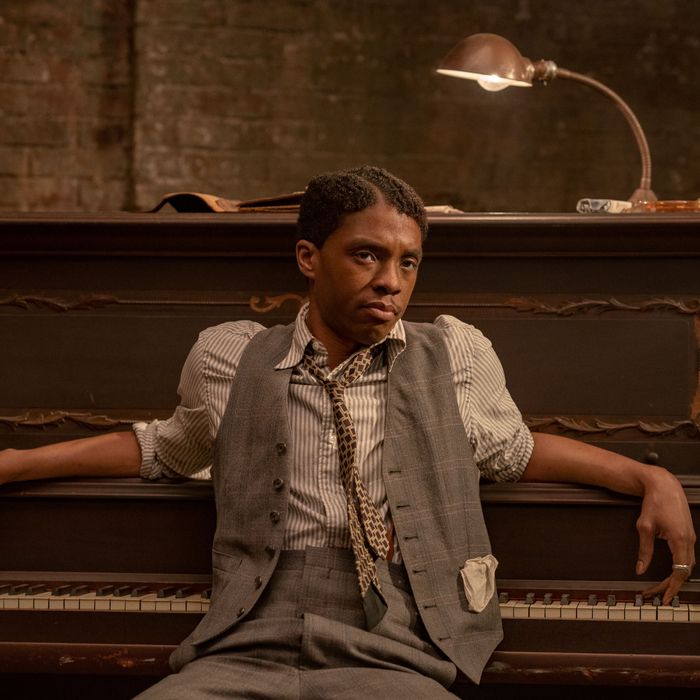 It's safe to say that when the Oscars began its broadcast last night, there were a few wins we were all expecting, either because those nominees had won all of their previous nominations in that category (like Youn Yuh-jung for Best Supporting Actress or Daniel Kaluuya for Best Supporting Actor) or because some victories just felt inevitable (like Soul, which, despite the issues many have had with its plot, has always been heavily favored over its fellow nominees). It seemed like Chadwick Boseman, who died of colon cancer in 2020 and was nominated in the Best Actor category for his role as Levee Green in Ma Rainey's Black Bottom, fell into both of those categories. Boseman won three of his four previous nominations for the part, and, considering both the shock of his death and the near-universal acclaim he has earned for his final role, the late actor seemed like a shoo-in to be the third posthumous winner for an acting award in the Academy's history.
In fact, Boseman's win was apparently such a foregone conclusion that the ceremony's producers — including director Steven Soderbergh, who I suppose followed through on his promise that this year's Oscars would be unique? — chose to close the broadcast not with the Best Picture winner as usual, but rather with Best Actor, presumably to end an emotional year in Hollywood on a similarly emotional note. It appears, however, that the Academy's voters had something other than the expected in mind. Boseman lost the Oscar — which went to Anthony Hopkins for his turn in The Father — and instead of getting their moment of bittersweet triumph, the Oscars producers got a chaotic ending rivaled only by the infamous La La Land–Moonlight upset of 2017.
Regardless of whether you believe Hopkins deserved to win (and many do), one thing is clear: The Oscars had a plan to use Chadwick Boseman. Had he won as expected, any of the inevitable hiccups in the broadcast — this year's included strange pacing, a lack of showcasing clips, and that bizarrely paced "In Memoriam" reel (which also had some glaring blind spots, leaving out Jessica Walter, Naya Rivera, and Adam Schlesinger, among other worthies) — would have been forgotten the moment that Simone Ledward Boseman, his widow, stepped onstage to accept the award on his behalf. She has done a wonderful job honoring her husband at other ceremonies thus far, delivering lovely speeches in his memory, and many anticipated her doing so one last time. In fact, I'm sure the producers had visions of a moving, tear-jerking speech and a long and loud standing ovation serving as the final image of their innovative ceremony.
This imagined ending is so transparently self-serving, however, that, had things actually gone this way, I'm not sure I would be much happier. It would have been a dramatic and emotional moment, yes, maybe even cathartic; it's been a difficult year for everyone, and Boseman's death hit both audiences and the industry hard. So to see him win, even under these sad circumstances, would have given a satisfying end to a difficult story. The good intentions are there. And anyway, you can't go wrong saving the best for last, right? But it's obvious that Soderbergh and his co-producer's main goal in jumbling the order of the awards was not to pay proper tribute to Boseman's career and legacy but instead to use the gravity of that moment as a neat little bow on their experimental Oscars and to guarantee glowing reviews and Twitter adoration.
Using the death of a Black man who was killed by a disease that affects Black men at a disproportionate rate — they are almost 40 percent more likely to die of colon cancer than any other group — to get a gold star from your industry peers is cheap and crass for many reasons but perhaps most of all because it would have diluted the strength of Boseman's victory. Of course, the producers don't know winners beforehand — that much is obvious now — but placing the posthumous winner last implies that the win is more of a courtesy than an earned reward. Boseman gave remarkably strong performances throughout his entire career, and his theoretical win should have been an acknowledgment of that work, rather than an easy, emptily poignant conclusion to the Oscars broadcast.
All of this is bad enough. What really takes the cake in this whole disaster, however, is not the brazen wishful thinking of the producers but the brazen opportunism of the Academy. In this year's gift bags, there is one notable inclusion: an NFT bust of Chadwick Boseman, created by 3-D artist Andre Oshea to benefit the Colon Cancer Foundation. Conceived as a way to translate the market for fine art into the digital world, NFTs are exclusively owned files. While it's true you can generally find and download the same images for free (here's the bust, if you ever want to feel like one of the stars), the NFT is functionally the original file, distinguishing it from all the others. Somehow, by the magic of capitalism, I guess, NFTs find their value in that minuscule but vital distinction.
Never mind the fact that NFTs are stupid, though — commandeering Boseman's image and throwing it into the rich people's swag bags only serves to emphasize the fact that the Academy never valued Boseman as an actor or a person. He is simply a way for them to hop on a trend, in life and in death, whether that's diversity or dumb crypto-art. Again, I can see the good intention — the money goes to a good cause, and typically this type of thing is done to honor someone — but the execution is slimy and garish.
Boseman was an intensely private person, which is part of the reason why his death was so shocking. To use it as such an integral part of a public spectacle is insulting, not only to his legacy, but also to his family, whose mourning has essentially been commodified. In the effort to make this largely procedural event more innovative and memorable — on purpose this time — the Academy chose the gestural over the genuine, neglecting a Black man's legacy and once again undermining the believability of its own efforts to do better for people of color in the industry.