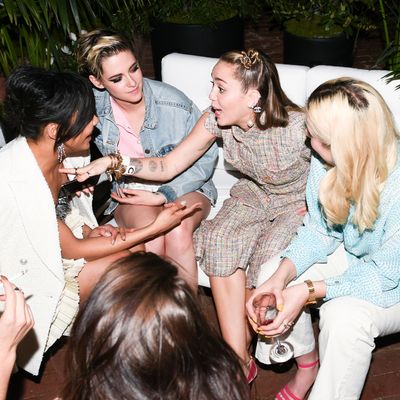 Tessa Thompson, Kristen Stewart, Miley Cyrus, Suzie Riemer in 2019.
Photo: Billy Farrell/BFA.com
On Sunday night, the 93rd Academy Awards will take place in person and without face masks in Los Angeles. There will be celebrities, fancy outfits, and probably some tears. But one thing there will not be is parties. No pre-parties. No after-parties. Only viewing parties from home. (Well, as far as we know …)
For the last 12 years — minus 2020, of course — Chanel and Charles Finch, Hollywood's "ultimate party host," organized a star-studded Oscars pre-party the Saturday before the big event. Under normal circumstances, big-wig actors, directors, producers, writers, and Hollywood influencers would all gather for a 150-person dinner at the Polo Lounge inside the Beverly Hills Hotel, where they would sip martinis and presumably discuss the list of Best Picture nominees.
This year, in lieu of an in-person event, Chanel will be sending boxes of goodies to everyone from major celebrities like Brad Pitt and Leonardo DiCaprio to rising stars like Margaret Qualley and Lily Rose-Depp so that they can do an at-home "toast" to fashion and film. Of course, martini supplies will be included, plus a mini projector and an ice cream sundae kit for dessert.
Coco Chanel loved a good party. At her apartment, she'd entertain a mix of up-and-coming creatives and more established ones, and the brand's pre-Oscars event was held in that same spirit. Who knows what she would have thought of Zoom or martinis in a box, but in honor of parties past and present, we've culled some particularly special photos from the last 12 years.
Part of the fun of looking through party photos is trying to figure out what the heck people like Drew Barrymore and Mick Jagger had to talk about. Or what was so funny between Tracee Ellis Ross and Yara Shahidi. Or what happened to make Kristen Stewart's jaw drop. They capture moments we took for granted: Cozying up in a restaurant booth with friends. Hugging. And all the awkward, thrilling juxtapositions of real life.
Below, some photos to keep you energized on a Saturday night.