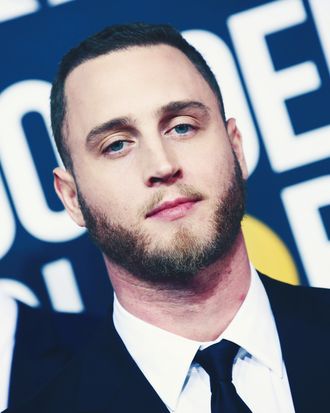 Chet Hanks.
Photo: Shutterstock
It is my distinct displeasure to announce that "White Boy Summer" has arrived suspiciously early. I say suspicious because Chet Hanks, architect of this cursed concept, dropped a single of the same name immediately after his ex, Kiana Parker, filed a $1 million lawsuit accusing him of physical and emotional abuse. As Parker and her legal team convened a press conference on Tuesday, alleging an "ever-escalating pattern of domestic" violence Parker says she experienced during her time dating Hanks, he pushed up the release date for his new music video. "Fuck it," he wrote on Instagram. "I was gonna wait til Friday but since y'all been showing so much love, #WhiteBoySummer' dropping 6 p.m. today."
Pretty strange timing, in my personal opinion! But let us review, step by step:
A few weeks ago, Chet Hanks proclaimed that summer 2021 would be "white boy summer."
In an Instagram post shared late last month, Tom Hanks's rapper son mused about a feeling he had that a "white boy summer" was on the horizon. "Take it how you want," he said. "I'm not talking about Trump, you know, NASCAR-type white. I'm talking about, you know, me, Jon B., Jack Harlow–type white-boy summer. Let me know if you guys can vibe with that." But while some people found it within themselves to vibe with Hanks's vision, others felt the premise sounded uncomfortably close to white supremacy. But then, this is a man not known for his cultural sensitivity: His past controversies include using (and defending his use of) the N-word, and speaking in patois, for some reason.
Hanks subsequently clarified in a video that "having any prejudice towards anybody from a different background, race, [or] walk of life" was the opposite of the "white boy summer" ethos. A "white boy summer," according to the artist formerly known as "Chet Haze," was also a "Black queen summer." But when he released his first batch of merch — done up in a Gothic typeface not unlike the style favored by white nationalists — some observed that the overall impression felt "aggressively racist."
Surprise, surprise — Hanks announced a "Black queen summer" apparel drop shortly thereafter. And to really round out the brand, he also made a music video for his "white boy summer" single (?), which he has been teasing on Instagram. Apparently, he planned to share it with the world on April 16, before he moved up the release date yesterday.
While the merch controversy was playing out, Hanks sued Parker for theft and assault.
As all of this was unfolding — in the span of like three days — details also began to emerge about the relationship between Hanks and Parker, a Black woman. The pair reportedly began seeing one another in March 2019, but split in January 2021, when Parker got a restraining order against Hanks, alleging that he had repeatedly become violent with her during arguments. For his part, Hanks denied any abuse, and according to TMZ, filed a lawsuit against Parker for assault, battery, and theft. (The Cut was unable to locate the lawsuit in Fort Bend County's case records.) The tabloid also released a video that Hanks appears to have filmed on his phone during a January 8 incident at their home in Sugar Land, Texas. In the footage, Hanks claims Parker "attacked him with a knife" (she says she didn't), stole his belongings, and charged thousands of dollars on his credit cards.
Parker's memory of the encounter is distinctly different. She says Hanks threatened her with a knife when she showed up at his home with movers to collect her things. She also claims that Hanks pushed her and attacked her outside. Hanks's attorney, Marty Singer, told People: "Her claims are completely false, fabricated and fictional."
Now, Parker has filed her own lawsuit.
According to the Daily Beast, Parker's lawyers convened a press conference on Tuesday afternoon in Richmond, Texas. There, attorney D'Angelo Lowe accused Hanks of making "a mockery of Black women in the criminal justice system by proclaiming that it's going to be a 'white boy summer,' and a 'Black queen summer' while knowing he mentally and physically abused a Black queen."
In the lawsuit, Parker points specifically to two alleged incidents in October and December of last year. In the former, she says she was with Hanks in New Orleans when they started to fight. According to court documents, Hanks "grabbed Parker by her wrist and forcefully pulled her to himself," using "a tight and painful grip" while "demand[ing] they go back to the [hotel] room." Later, back at the hotel, Parker claims he "became aggressive and hostile."
"I was laying in bed and he started harassing me verbally and forcefully shoving me, telling me, 'I would not disrespect him, he was in control, he would not allow what happened with his mom and dad's relationship to happen to ours,' and other things," she said in an affidavit filed with the request for a restraining order. When she tried to leave, he "grabbed her with great force, by her right arm causing instant pain, defensively she started to flail," according to the lawsuit. He allegedly turned over tables and threw a bottle at Parker, eventually smashing her phone and chasing her out of the room in his boxers, trying to drag her back by the arm, she says. Parker says Hanks threatened to jump from the balcony, and told her no one would believe a "ghetto Black bitch" over him.
Parker also says that, in December 2020, they got into an argument in which Hanks allegedly threatened to "blow [her] brains out." A few days later, he allegedly indicated that he "didn't want to live and would blow his brains out," too. She reportedly hid his gun, and broke up with him in January. When she returned on the January 8 to get her things, she says he started following her around the house, trying to pick a fight. "While I was packing up the kitchen, Chet came in and put his hand on a knife that was laying on the countertop," she said in the affidavit. "He began to come towards me, and I picked up a pot and swung it in the air in front of me and dropped it and started to run away towards the door. He rushed after me and grabbed me by my wrist. I pulled and was able to get away and run out of the house. He became even angrier and made somewhat of a growling noise while chasing after me." Once outside, the lawsuit says, "Hanks kicked Parker's legs and caused her to fall as he dragged her across the pavement. … Hanks was pulling Parker by her right arm. Parker felt that her arm was coming in and out of place."
Hanks denies all allegations of abuse.
"We consider the claims filed by Kiana Parker to be a shakedown," Singer, Hanks's lawyer, said in a statement to the Daily Beast. "Her claims are completely false, fabricated and fictional."
But he also kicked off "white boy summer" two months before summer officially begins.
Within about an hour of Parker's press conference, the Daily Beast reports that Hanks posted his video for "White Boy Summer," which — please recall — was officially scheduled for a Friday release. In another Instagram video, in which Hanks wears a shirt reading "Black Queen Summer," Hanks declared that his season had officially begun.
For whatever it's worth, Hanks has been especially active on social media in the past 24 hours. In another post last night, Hanks encouraged his fans: "DONT BELIEVE THE #FAKENEWS," presumably in reference to Parker's complaint.