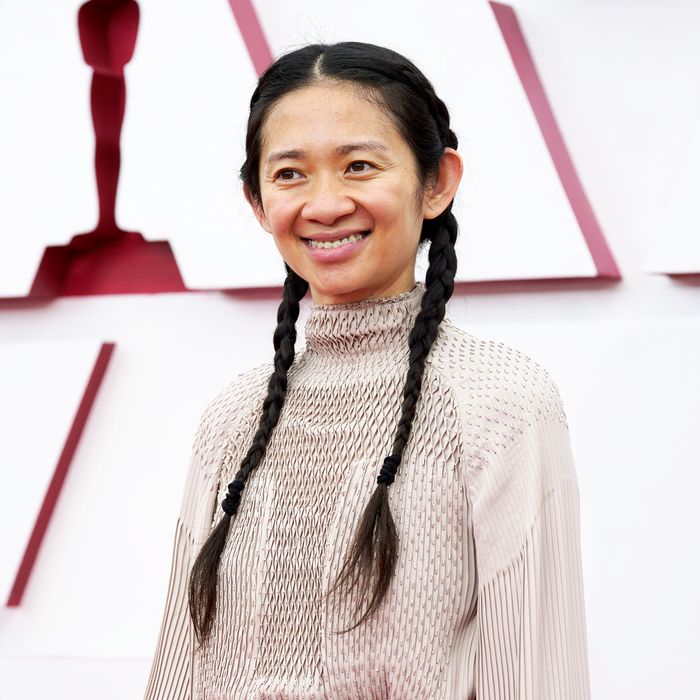 Congrats!!
Photo: Pool/Getty Images
Chloé Zhao made history at the Oscars tonight, becoming the first woman of color, and the second woman ever, to take home the award for Best Director. Zhao won for Nomadland, which also won Best Picture. Between those two awards, and nods for Best Film Editing and Best Adapted Screenplay, Zhao was also the first woman to have received four nominations in a single year.
"I've been thinking a lot lately of how I keep going when things get hard," she said in her acceptance speech. "And I think it goes back to something I learned when I was a kid. When I was growing up in China, my dad and I used to play this game. We would memorize classic poems and texts and try to finish each other's sentences." Zhao repeated the first line of one of their favorites, which translates to: "People at birth are inherently good."
"I have always found goodness in the people I've met, everywhere I went in the world," she continued. "So this is for anyone who had the faith and the courage to hold onto the goodness in themselves, and to hold onto the goodness in each other, no matter how difficult it is to do that."
Nomadland has won big all awards season, with Zhao taking home the Golden Globe for Best Director, Best Screenplay, and for Best Motion Picture–Drama, in addition to BAFTAs, DGA Awards, and honors at the Independent Spirit Awards. Tonight, she and her partner, cinematographer Joshua James Richards, brought two of the movie's nonprofessional actors, Linda May and Swankie, as their guests to the ceremony.
This was the first year that two directors of Asian descent (Zhao and Lee Isaac Chung for Minari) found themselves up for Best Director, and also the only year that two women (Zhao and Emerald Fennell for Promising Young Woman) have ever been nominated at the same time. Including Zhao and Fennell, only seven women have ever been in the running for this award.