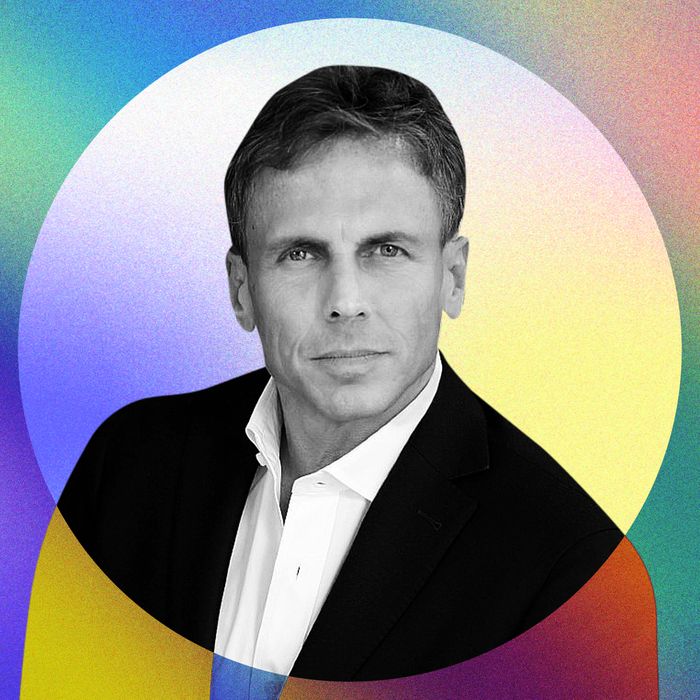 Ian Ginsberg
Photo: Courtesy of C.O. Bigelow
After a year of no touching and no trying, it sounds like a dream to aimlessly wander the aisles of a store, peer into glass countertops, and leave with a handful of things you had no intention of ever buying. Few places are better suited to that sort of wandering than C.O. Bigelow, the beloved Greenwich Village family apothecary that's been serving New Yorkers since 1838.
Inside the time capsule, you'll find effervescent antacids and headache relievers hanging out with Turkish rose water, Italian toothpastes, British boar-bristle brushes you know by first and last name, sparkly things to stick in your hair, and that teal, breath-freshening lip balm of early-aughts fame. You'll also find Ian Ginsberg, pharmacist, president, and the third-generation owner. He's the person responsible for filling the institution with personal-care finds from around the world and homegrown Bigelow products with updated takes on archival recipes, and he's kept his doors open during the pandemic.
The Cut caught up with Ginsberg to talk the bathing-culture revival, the importance of sunglasses, and straddling the worlds of health care and beauty during the spread of COVID-19.
You kept your doors open during the pandemic. Has the last year changed the way your customers interact with beauty products?
This has been a rough time for a lot of people, not having contact with others. It's very easy to fall into the doldrums. Many are stepping back and going, Let me take care of myself a little bit, but I think people have been less concerned with how they look and more concerned with how they feel. People are focusing on taking more baths, burning more candles — all things that give you a little bit of peace, where you can slow down and enjoy the moment more. As Americans, we don't bathe that much, and we're discovering the bathtub again. I mean, we've finished Netflix at this point, now what? It's a good way to kill an hour.
We're also seeing the rise of skin care, not because everybody's on Zoom all day, but because taking care of your skin and your body is a way to have a little more control in a world that seems out of control. As an apothecary, it almost feels like everybody washed their face with shampoo or shower gel their entire lives, and then one day they wake up, come in, and they're like, "Give me what I need to make it all go away." I've always believed in going back to basics, and it feels we're currently heading that way again. Rather than give you an eight-step routine, let's just start with cleansing, toning, and moisturizing every day. Try that for a week or two, and I assure you someone will ask you what you did.
What do you wish more people understood about what you do?
It's interesting, where I live, I think people know me as a pharmacist, which I am, but most people know me from the beauty and product side. I spin a lot of plates and wear a lot of hats, but at the end of the day, I think Bigelow is in the feel-good business. That means a 365-degree view of the person; we take care of their health-care needs and their beauty needs and we take that obligation seriously.
Even though I'm in the beauty business, I still own a pharmacy that's pretty damn busy, and we're in the middle of a pandemic. Some of these app-driven medical and health-care companies are cool for certain things, but we've been pharmacists for 180 years, and the people that I deal with are pretty sick. They don't want to text their pharmacist. Getting a happy face emoji is not how they want to deal with their health-care needs, and having someone drive by and throw their refill out the car window is not the way they want to get their health care delivered, you know? We're a traditional business surviving in the modern world.
What was the biggest "no" you heard in your career, and what did you learn from it?
I was in the makeup business back 20 years ago when Colette first opened and I wanted to be there. I pitched to them; it was a hard no, and I never got over it. It was devastating to me. And then years later, I got an email from [Colette founder] Sarah [Andelman], saying, "Hey, I love what you're doing. How come we don't work together?" No's are good because they force you to reassess. Sometimes, you just didn't do it right. You get knocked down, you pick yourself up, dust yourself off, learn, and get back up on the horse.
If you look at Bigelow's, we started as a pharmacy against giants. Even in the past few years, we've been surrounded by all these private equity-backed brands and retailers that were blowing cash out of money guns. When Barney's was on 17th Street, we couldn't carry any beauty brand. I was trying to build a beauty business and every time we wanted to carry something, they'd say no and shoot us down. And I said, you know what, I'll just go to Europe and buy my own stuff. No's teach you to create better opportunities or figure out a different way. When everybody goes one way, I go the other.
Where would you like to see the beauty industry go from here?
I think there's a lot of noise out there, and there's a lot of hysteria about safety and "clean" beauty. The hysteria is surpassing the science, and I'd like to see this hysteria calm down and the science surpass it. The internet is a great thing, but it's also a dangerous thing. The good news is, it's an open playing field where everybody can communicate with everybody, and the bad news is, it's an open playing field where everybody can communicate with everybody. It's really hard for people to separate the science from the hype. There's no standard, it's: May the best social media win.
I'd also like to see people come back to basics; touching and feeling things, being back in stores, wandering, learning, and trusting. Most people just get their information from Instagram and staring at a two-by-two screen. We're surrounded by stores where it's all iPads, TVs, strobe lights, music. Sometimes, you just want to go to a place, put your phone in your pocket, talk to really great salespeople and learn something.
What's one fan experience that stood out to you?
Oh, God, I have lots of them. I always say I was a musician first, so I always love seeing rock stars here. I grew up as a kid seeing the New York Dolls and Sylvain Sylvain used to sit at the [soda] fountain every day and eat. Gregg Allman was here once and he almost had a heart attack. I used to love taking care of Lou Reed. When the [NBA] All-Star Game was in town many, many years ago, Cookie Johnson came into the store, and I was a huge Magic Johnson fan, so that was pretty exciting.
What also gets me really excited are the super-creative people I really admire who don't run their own errands, but the one errand they do run themselves is coming to Bigelow's. People like Calvin Klein, Gilles Bensimon, Diane von Furstenberg, Elvis Costello, Sarah Coleman — people who are really inspired and still find what we're doing after 180 years inspiring. We did a really cool Christmas window last year and Amy Sedaris tweeted about it. We had Fauci as Santa Claus and Baby Yoda as the elves. We still have Fauci — like a giant Fauci Muppet — in the store with his mask on.
Fill in the blank: Unfortunately, _______ is worth it.
Running. I'm one of these weird people who actually likes it. And unfortunately, Augustinus Bader The Rich Cream is worth it. It dries down well, you still feel moisturized throughout the day when you're old like me, and I do get the sense that my skin texture's improving. I always say you can measure a great product by how pissed off people get when it's out of stock, and the Rich Cream's one of them. People aren't that loyal to skin care; they'll bounce around, you'll use what your friend tells you one time, you'll try something because you think it's cool, expensive, and everybody's talking about it, but you won't rebuy. I'm watching people repurchase that.
I'd say Le Labo's Bergamote 22 is also worth it even though everybody wears Santal 33. It's fresh, it's clean, and not a day goes by that somebody doesn't ask me what it is. With Santal, people tell you what you're wearing.
What, in your opinion, is the best affordable beauty product or products?
You can't beat a bar of Dove soap. When you think of soap, it's so drying, but Dove really figured it out. I love things that don't have to change; things that were great and cool 50 years ago and are just as cool today, like Lubriderm's body lotion, Cetaphil's soap-free face cleanser, and Bigelow's Rose Salve.
Is eye cream "worth it"?
I think doing something every day is the most important thing, and starting as young as you can start is best. Listen, if we could penetrate the stratum corneum and reverse aging as most companies want you to believe, we'd all look 12 years old, right?
The skin around your eyes is the thinnest skin. It's very delicate, so it burns very easily, you get creases, you get puffy in the morning, you get dark spots, you see the aging more easily. So you want to keep that area hydrated, it's silly not to. And it doesn't have to be with a $500 cream with secret technology. Is it hyped-up moisturizer? It might be, but there are some ingredients and certain textures that do help. I love Avène PhysioLift, and I've also been using BeautyStat's with the vitamin C. Neither of them are inexpensive but I don't think the expense is the key. It's like anything else; exercising, eating right — it's consistency that's key.
Also, wear sunglasses. People will go and spend all kinds of money on Botox and all these things, when the simplest thing to do is put a goddamn pair of sunglasses on when you're in the sun so you're not squinting all the time. I yell at my wife about it every day.
Is there anything the store used to carry back in the day that you wish was still around?
We still hold on to so many products that got lost in the sea of the CVS and the Walgreens planograms, but you have to ask for it; we have a lot of secrets here. The one thing we stopped making but will bring back one day is the first product ever made in the apothecary, our rose cold cream. Every apothecary had their own version of a rose cream, which used oil of rose, rose petals, and rose water. We made a more modern version that was a cleanser, a moisturizer, a spa treatment, everything. It was awesome, but not an easy thing to make, but I'd like to bring it back.
What's the wildest luxury-beauty experience you've ever had?
I did get a Tracie Martyn facial once. We work with Tracie and I went over there one time, and she and Marius [Morariu] wouldn't let me leave. I got the Red Carpet Facial. I thought it was pretty awesome; it's only wild because I don't really do a lot of services. I convince other people to do them all the time, but I can't sit still.