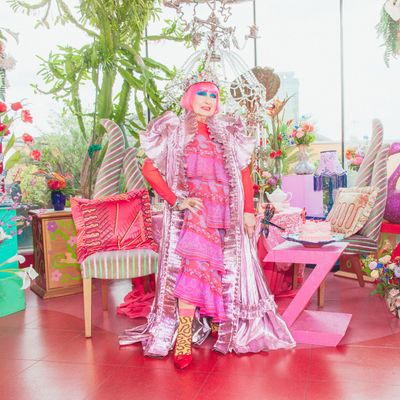 Photo: Courtesy of Happy Socks
The least exciting item in your wardrobe is getting a massive glow-up. In a limited-edition collaboration with Happy Socks, the British designer Zandra Rhodes has managed to distill her colorful personality and design aesthetic down to three pairs of socks. Truly, if Rhodes were a sock, I have no doubt she would be the rainbow-sparkly-wiggles pair.
Rhodes has styled everyone from Princess Diana to the lead vocalist of Queen, Freddie Mercury. After she died her hair pink in 1980, her fuchsia bob became integral to her identity as both the Queen of Color and the Princess of Punk. Her latest collaboration with Happy Socks features three of her classic designs: the snake, the wiggle, and the button flower.
"The snakes are from very early on when I did stick-on tattoos of serpents. Then there are my wiggles, which I've always done," she told the Cut. "The wonderful button flowers are from when I was in Paris and I went to a flea market with Karl Lagerfeld."
Every one of Rhodes's garments, whether a royal gown or simply a sock, is engrained with her enthusiasm and genuine delight about the beauty of the world. Even with the past year being so devoid of color and excitement, she says she still never fails to find solace in getting dressed every day.
"I make sure that I don't let myself sink into dullness," says Rhodes. "Look, if it's only cheering myself up, or even if it's only to appear on the computer screen, I've got to feel good in myself. Because if I don't feel good, then I don't have the will to design."
How will the queen of color debut her colorful new socks (once she can safely leave her equally colorful London penthouse)? Well, she's going to shorten all of her trousers "so they show off my socks. It's going to be fabulous."
You can purchase the socks for yourself here.