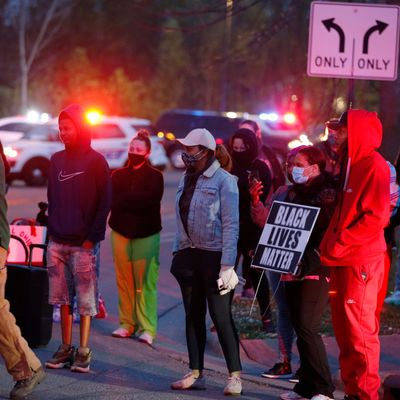 On April 20, a Columbus police officer shot and killed 16-year-old Ma'Khia Bryant.
Photo: Jay LaPrete/AP/Shutterstock
Less than an hour before Derek Chauvin was convicted on all counts for the murder of George Floyd — a sliver of accountability rarely seen in police-brutality cases — a Black teenager in Columbus, Ohio, was shot dead by police, the Columbus Dispatch reports. The victim's mother, Paula Bryant, and the Franklin County Children Services have identified the girl, who was in foster care, as Ma'Khia Bryant. She was 16 years old.
At 4:32 p.m. local time, police received a 911 call from a distressed female caller on the city's east side, yelling that someone was trying to stab her. "We need a police officer here now," the caller urged, as screams resonated in the background. While authorities have not yet publicly identified who made the call, Bryant's family says it came from Ma'Khia. When officers arrived at the residential address, they encountered a chaotic scene in the driveway. In edited body-camera footage — which authorities released hours after the fatal shooting — Ma'Khia, who appears to be holding a knife, seems to lunge toward a girl who falls to the ground, and then moves toward another girl leaning against the hood of a parked car. "Get down! Get down!" an officer, who has since been identified as Nicholas Reardon, yells repeatedly before firing four shots at the teenager.
In video taken by someone at the scene, officers can be seen administering CPR to Ma'Khia, who was transported in critical condition to Mount Carmel East hospital. Per police, she was pronounced dead at 5:21 p.m. Officer Reardon — who has been on the force since December 2019 and is white — has been placed on administrative leave.
"She was a good kid. She was loving," Hazel Bryant, Ma'Khia's aunt, told reporters. "She didn't deserve to die like a dog in the street." In an interview with 10 WBNS, Paula Bryant called her daughter "a very loving, peaceful little girl." She continued: "She was an honor-roll student, and Ma'Khia had a motherly nature about her. She promoted peace."
Hours after the fatal shooting, Black Lives Matter protesters began to gather about half a block from the scene to mourn Ma'Khia. "We don't get to celebrate nothing," demonstrator K.C. Taynor said through a megaphone, alluding to the Chauvin verdict. "In the end, you know what, you can't be Black." Civil-rights attorney Ben Crump, who represented George Floyd's family, also remarked on the timing: "As we breathed a collective sigh of relief today, a community in Columbus felt the sting of another police shooting," he tweeted.
That same evening, City Council members convened for a preplanned meeting regarding the city's inaugural Civilian Review Board, which will investigate incidents of police misconduct and use of force. There, council president Shannon Hardin announced that the city had lost another Black person to police violence.
"We don't know very much as it stands, and as we watched the verdict from Minneapolis, many talked about the sigh of relief — but there is a truth that for so many in our community there is no relief," Hardin said. "We're going to need to have the utmost transparency as we go through and learn more [about the latest incident]. But the truth is that nothing that we will do will bring this young baby girl back. Nothing will stop the family from grieving."
The question of why the officer chose to use his gun — rather than a Taser or less-lethal weapon — is one the community is left asking. "I don't know why the gun was the first thing for him to use," DeJuan Sharp, an organizer with a local Black Lives Matter group, told the New York Times. Kiara Yakita, founder of the grassroots group Black Liberation Movement Central Ohio, refuses to accept the narrative offered by Mayor Andrew Ginther that the officer was forced to take action "to protect another young girl in our community." "As soon as [the officer] got out of the car, he had the gun ready to shoot somebody," Yakita told Washington Post. "Those excuses are not valid to me."
Whether or not the officer's use of deadly force was justified will be reviewed by the Ohio Bureau of Criminal Investigation, which is now investigating the shooting. Once that review is completed, the case will then go the Franklin County Grand Jury, and then back to the police department for an internal review.
This post has been updated.