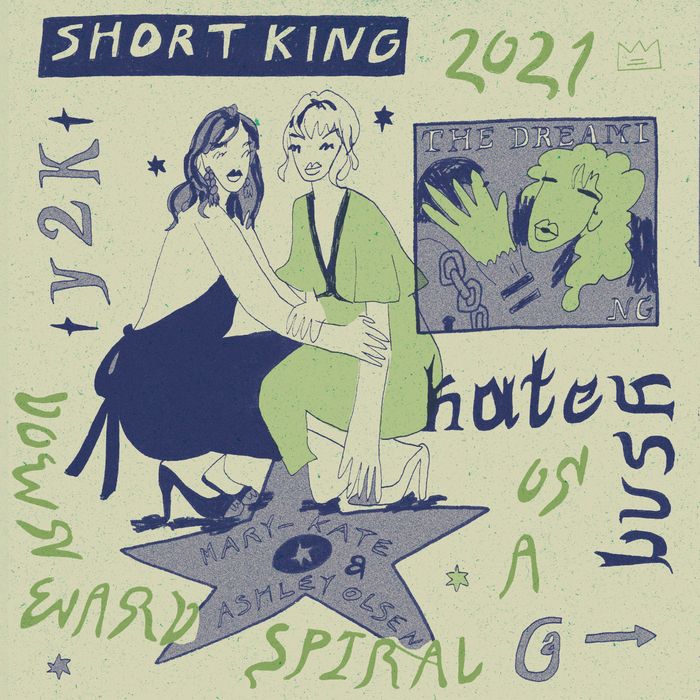 Illustration: by Luci Pina
In quarantine, with almost everything mediated exclusively through the Internet, a certain type of person has come out of the woodwork. Online, from the comfort of their own homes, Main Characters are propelling themselves into a socially distant sort of celebrity. The pandemic has created the perfect conditions for them to become spectacles, in a good way. (And no, I'm not talking about the weekly, disposable main characters on Twitter like the Cinnamon Toast Crunch Shrimp Guy, or "influencers" — at least not necessarily.)
A Main Character might be famous, or semi-famous, or niche famous, or someone without an intensely public image at all. Main Characters, as I'm deploying the phrase here, have a positive connotation. They might be a singer-songwriter like Jensen McRae, or write detailed, first-person Depop captions that skewer pop culture while exposing a chaotic inner world like Mika Kol is or, like Sarah Ramos, blur the lines between fangirl and Hollywood actress in ways that don't diminish star quality but compound it. Or, in the case of Zaina Miuccia, they might be one of the last bona fide "It" girls in the world.
Main Characters aren't talking to hear themselves but aren't exactly talking to not hear themselves. They tend to be very, very good at the internet. As a consequence of their natural charisma, Main Characters are always the ones being pursued in their closest relationships. Unlike those with underdeveloped or dull personalities, they aren't faking anything. They're not donning a faux-mysterious persona to mask a vast well of uninterestingness, nor are they a simulacrum of the shiniest parts of other people. Even if you can't say they're a good person, you can emphatically say a Main Character is at least an interesting person.
Main Characters are the real-world version of the "add a little spice" TikTok trend. Remember when Miranda July profiled Rihanna for the New York Times but, in actuality, wrote a tight, gorgeous piece of first-person nonfiction about a day in her own life? Main Characters are my favorite people. Like the musician I recently dated, a short king, who made me realize I can never go back to dating normies again.
As a Main Character myself who is obsessed with taste, aesthetics, and the public performance of womanhood — the subjects I'd frequently write about for my now-defunct, soon-to-be quarazine Substack newsletter — I've been doggedly mining the ephemerality of Main Character energy for the last year. (And I'm not the only one.) Here's what I think will be cool to other Main Characters in 2021 as more of us get vaccinated:
Glowing Down 
Looking like the "before" photo in a transformation ad. No filters. Visible eye bags, nasal folds, and pores — the opposite of Instagram Face. Drab, muted colors. A collective browning of wardrobes.
Earnestness
Disaffection was never cool.
Maximalism
Doing the most, being TOO MUCH, and trying hard. More of this.
Visual Mediums Like Video Essays, Art Journaling, Zine-Making, Livestreaming, Aesthetic Vlogging, and Webcam Photography
They've always been there, but they're going to be bigger than ever this year.
Blogging
Everything public has felt impersonal since Tumblr and LiveJournal. In 2021, talking about the personal will feel warm and useful again, like a diary entry with the names redacted.
Being Extremely Offline
Lorde, Warsan Shire, and Michaela Coel have all limited their online presence, evading the surveillance of their fans and critics. Is it a coincidence they're all geniuses? No.
Being Horny in an Abstract Way
It's no longer about "being horny on main," it's about sending your crush an Oklou song and expecting them to know how you really feel. Horniness should be like an Impressionist painting on the wall of an orthodontist's office.
Sad Girl Ballad Singers
These singer-songwriters like Jensen McRae, Olivia Rodrigo, and Phoebe Bridgers aren't interested in cultivating aloofness but are also uninterested in bleeding on the page. There's a rawness to their sound that is reminiscent of the femme singer-songwriters that came before them, like Jenny Lewis, Fiona Apple, and Michelle Branch.
Bedroom Arena Pop 
Bedroom pop was rich people counter-signaling via DIY culture. Bedroom arena pop, however, is when artists from working-class or immigrant backgrounds create the illusion and girly grandeur of arena pop from their bedroom. Think: Bree Runway, Rina Sawayama, Muna.
Mary-Kate and Ashley
They've enjoyed a lot of fanfare and nostalgia during quarantine with good reason: They've never been overexposed, unlike like their peers.
Very Niche Meme Accounts 
Meme accounts like on_a_downward_spiral represent many disparate, hyperspecific, and chaotic intersections at the same time. It's shared internet brain at its finest. finest. In the last year, they've memed Fiona Apple and Kate Bush so much that they've come to represent unfettered feminine expression in a new, pandemic-derangement-specific way.
Personality vs. Persona Comedy
The real person should always be legible in one's POV comedy videos and skits. Sydney Battle, Ryan Ken, Megan Stalter, and Caleb Hearon excel at this on Twitter, so even when their comedy feels universal and relatable, it's still specific, alternative, and novelty.
Communism 
Hopefully, the reimagining of work and productivity that took place last year will also tilt the collective consciousness toward communism, which, for those who aren't Main Characters, will be the true equalizer, the vaccine for their whole existence.