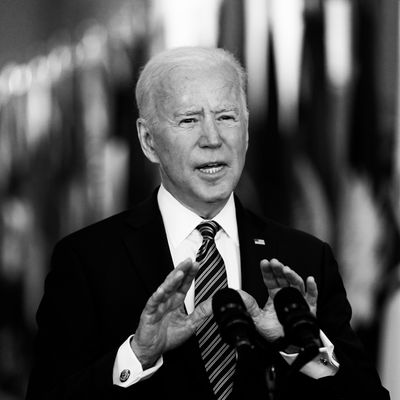 Joe Biden.
Photo: Chris Kleponis/CNP/Bloomberg via Getty Images
Good news for those who have not yet been vaccinated against COVID-19: Joe Biden has yet again accelerated the timeline of the national vaccine rollout. According to CNN, Biden plans to move up his deadline for states to make all adults eligible for the vaccine by nearly two weeks, to April 19.
While Biden said last week that 90 percent of adults would be eligible for vaccination by April 19, and that they would be able to receive doses at a site within five miles of their home, he will announce today that all adults will be eligible by that date. (He previously said that all adults would be eligible by May 1.)
The new deadline is another sign that the vaccine rollout is going well — and, in some cases, better than expected. Originally, Biden hoped to have administered 100 million vaccine doses by his 100th day in office — a goal he has already surpassed. He's now doubled his goal to 200 million doses by his 100th day, and all signs indicate he'll hit that target.
To accomplish these deadlines, Biden has ordered the establishment of more mass vaccination sites, and has called on an assortment of medical professionals, including dentists and veterinarians, to enlist to administer vaccines. According to CNN, all 50 states have announced when they plan to extend vaccine eligibility to everyone, if they haven't already done so.
Of course, we must continue to mask up and adhere to measures that prioritize public health, but how nice it is to feel a renewed sense of hope. Biden has previously said that things will hopefully feel more normal by summer. "By the Fourth of July, there is a good chance you, your family, and friends can get together in your backyard or in your neighborhood and have a cookout or a barbecue and celebrate Independence Day," Biden said during his first national address as president. "After a long, hard year, that will make this Independence Day truly special — where we not only mark our independence as a nation but we begin to mark our independence from this virus."
This post has been updated.