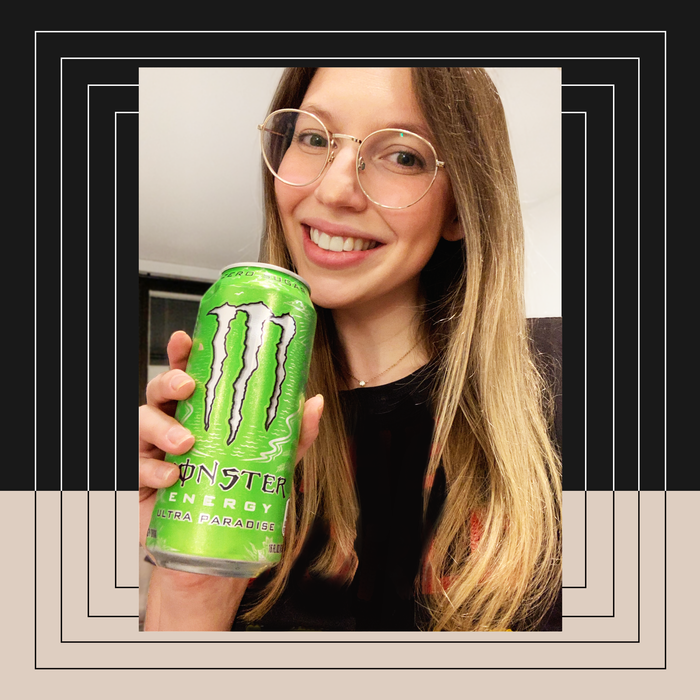 Photo: Courtesy of the talent
As many of us reach the one-year milestone of the new WFH lifestyle, it can be hard to keep energy levels high and productivity up. Maybe you're working in sweats or pajama pants, and the inviting call of your warm bed keeps distracting you. (Or hey, maybe you're actually just working from bed.) Maybe your normal energy sources aren't doing it for you anymore — whether that means your morning cup of coffee isn't giving you the same boost you used to enjoy, or that afternoon tea or soda is leaving you even more tired than before.
Remy Fine, a senior creative strategist at Vox Media, has been feeling that hit to her energy levels since beginning to work from home last year. She started drinking a daily cup of green tea, despite never drinking caffeine regularly before, to counteract a newfound energy dip in the late morning and early afternoon. Fine describes herself as "not a morning person," joking: "Don't tell my boss, but we start work at 9:30 a.m., so I usually wake up at 9." (Relatable.)
In an effort to revive her WFH days, Fine wanted to add a new source of caffeine to her routine. She was curious about the wide world of energy drinks, even though she had never tried one. "I've never needed an extra boost beyond tea before, so it just wasn't something I sought out," she says, adding that she also had some preconceptions about energy drinks. "I always had a preconceived notion that they were super sugary. When I actually looked at the ingredients [of Monster Energy Ultra], I was glad to see that it had zero sugar unlike the original green Monster drink." So, as an experiment, Fine replaced her go-to daily green tea with a Monster Energy Ultra for an entire work week. Read on to see what she thought of the swap.
What does a typical "day in the life of Remy" look like during the work week? 
I am not a morning person, so you probably won't see me out and about before work starts. Once work begins at 9:30 a.m., I always start my day by getting organized. I check my meeting schedule, go through emails, and make a to-do list of everything I have to get done. [From] 10:00 a.m. to 12:00 p.m. is my brainstorm and writing time, and from 12:00 p.m. to 1:00 p.m., I hold my "think tank" office hours. This is a time where people can sign up to meet with me to talk through ideas. It's my favorite time of day because I get to be super-creative and work with different people. [The late afternoon] is always a mixture of work. I use this time either to write, work on projects, or attend West Coast meetings.
During the evening, I love to cook, and I host a nightly cooking show on my Instagram. I also have two cats that I cuddle up with who help me decompress. My boyfriend and I have also gotten into puzzles over quarantine. So we spend a lot of time listening to music and pretending we're good at puzzling.
How do you feel that your energy levels tend to fluctuate throughout the day? 
My energy in the late morning and early afternoon is the lowest — between 11 a.m. and 12 p.m. I'm pretty productive throughout the day, especially because my schedule is constantly shifting because of my job. I always have to be [online] and ready to talk to clients, change a campaign, or be creative at a moment's notice. However, I am very productive in the evening around 8 p.m. to 12 a.m. Sometimes I take that time to plan, research, and work on personal projects [outside of work] because my brain just feels very clear.
How did you adjust your caffeine habits after you started working from home last year?
Working from home has been hard for me. I can nap at a moment's notice and need consistent social stimulation. Otherwise, I feel bored and tired, so it's been very hard. In fact, before working from home I never drank any caffeine at all.
Now, I usually drink green tea with peppermint around 11 a.m. Sometimes I skip it and have it a little later in the afternoon for a boost if I'm feeling low-energy. But most importantly, I have a sensitive stomach, so I try to keep my caffeine intake to two cups a day maximum. That's one of the big reasons why I liked Monster. One 16-ounce can of Monster Energy Ultra actually has less caffeine than a typical 16-ounce coffee shop coffee, so [I didn't] get over-hyped.
On that note, how did you fit Monster into your WFH routine? What did you think of it?
I think Monster fits best in the afternoon when you need that additional kick. It was great with a little lunch or a 12:00 p.m. snack. I also found that it was great before important on-screen work calls because it perked me up so it didn't seem like I'd just been sitting on my couch working all day.
I love citrus-flavored drinks, and Monster Zero Ultra tasted like a citrus sparkling drink. Monster Ultra Paradise is more of a sweet, refreshing taste, good for a late afternoon snack. The best part about Monster is [I noticed that] it works fast. … I definitely felt more alert.
So, what will your caffeine habits look like going forward? 
Monster was great for a quick boost of energy, and it tasted great. Even though I definitely don't fit the "hard-charging, extreme sports athlete" stereotype that is often associated with the brand, I've learned that Monster is not exclusive to that hardcore gamer or extreme athlete crowd. (I don't even game beyond easy puzzle games on my phone!) I could enjoy Monster for the purposes that I needed it — concentration and productivity at work — and I like that Monster has something for everyone, even WFH employees like myself. I could see myself drinking it again when I need an extra boost.
This advertising content was produced in collaboration between Vox Creative and our sponsor, without involvement from Vox Media editorial staff.