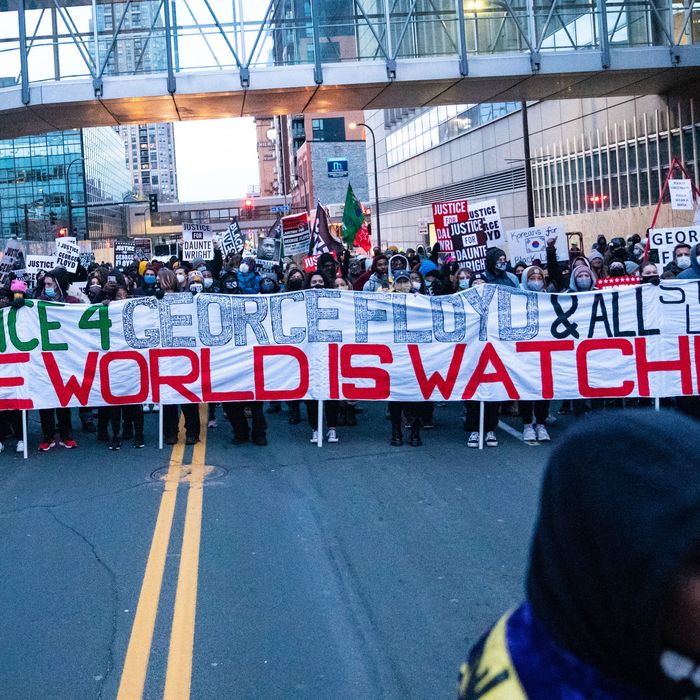 Photo: Jason Armond/Los Angeles Times via Getty Images
After less than a day of deliberation, jurors in Minnesota have found Derek Chauvin guilty of murder. The former Minneapolis police officer, who knelt on George Floyd's neck for more than nine minutes while Floyd repeatedly gasped "I can't breathe," could spend more than 40 years in prison, a punishment rarely seen in police-brutality cases. Chauvin was charged with three counts — second-degree unintentional murder, third-degree murder, and second-degree manslaughter — and was found guilty of all three.
Many consider the verdict a sliver of long overdue justice for the disproportionate number of Black people killed by police each year — people like Breonna Taylor, Rayshard Brooks, and Daniel Prude, whose names were chanted in the streets during mass protests last summer. Just last week, a 20-year-old Black man named Daunte Wright was killed by a white police officer a mere ten miles from where Chauvin's trial was being held. Every day since the trial began, peaceful protests have taken place outside of the courthouse, and thousands of National Guard troops were sent to Minneapolis while the jury deliberated.
According to data from Bowling Green State University in Ohio, in the rare instances when police officers involved in killings have been charged with murder or manslaughter — since 2005, it has only happened 121 times — fewer than half were actually convicted. In many of the police killings that sparked massive public outcry, like the shooting of 18-year-old Michael Brown in Ferguson or the killing of Eric Garner in New York, the police officers involved weren't even indicted. When cases do go to trial, cops are protected by a 1989 Supreme Court ruling which states that reasonable use of force should be determined by the officer's perspective in the moment — did they feel their life was at risk? — rather than by hindsight. In 1993, this decision led to the acquittal of four officers charged in the beating of Rodney King; jurors in Chauvin's trial were given the same "use of force" definition to consider. In Floyd's case, video footage shows he was unarmed, unable to move, and begging for his life after Chauvin pinned him to the ground.
The trial revolved around two main questions: What caused Floyd's death? And did Chauvin use excessive force? Some of the most damning testimony from the prosecution's side came from Chauvin's former boss, the Minneapolis Police Department chief, who said the level of force Chauvin applied was excessive and violated police training. Medical experts also offered damning testimonies, explaining that Floyd died from lack of oxygen. Chauvin himself declined to testify; his defense lawyers tried to argue that Floyd died from a heart condition and traces of drugs in his system.
In closing arguments, the defense spent almost three hours asking jurors to see Chauvin's actions as reasonable given the "totality of circumstances" not shown in the nine-minute video, while prosecutors told them to trust their own eyes. Darnella Frazier, the teenager who shot the viral video of Floyd's death that showed the world what happened, said she is still traumatized by what she saw that day. "I've stayed up nights apologizing to George Floyd for not doing more and not physically interacting and not saving his life. But it's not what I should have done," she said on the stand, "it's what he [Chauvin] should have done."