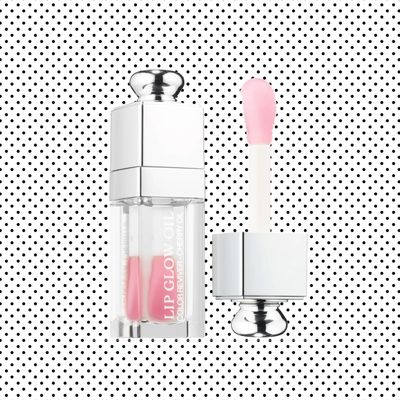 As I prepare to debut my post-pandemic self, I want to look dazzling and shiny. I want to feel the sun touch parts of my face that have been masked for over a year. I want to throw my mask off and stomp it viciously into the ground, until the bendy-nose part breaks. I want to mourn and celebrate those we have lost. And I want to wildly apply a goopy lip gloss all over my mouth just because I can, and because it won't be sticking to a mask.
For that moment in the future, I'm going to reach for Dior Lip Glow Oil. Lipstick was my pre-pandemic thing, but right now, I want just glosses. I want glazed lips that look so juicy and "bursting" that you'll want to reach out and pluck them off my face. This lip oil is a luscious oil/balm combo with a li'l cute chubby wand applicator that with one application makes my lips look like they're voluptuous, succulent, and incredibly smooth. Unlike other "plumping" lip products, this one doesn't contain any ingredients that make me feel like I'm having an allergic reaction, but is still satisfyingly nonsticky, slippery, and moisturizing.
I prefer the shade "clear." My lips normally look sort of line-ridden and a gloomy mauve. With this gloss on, my mouth has the sleekness of the surface of an undisturbed infinity pool. Like other Dior Lip Glow products, it contains some kind of "color reviver" technology that becomes a "your lips but better" color when applied. For me, it turns into the soft, sheer pink color you see as you're slurping up the dredges of a Wild Cherry Slurpee cup. I can't wait to wear it outside as I bear-hug everyone I've missed.