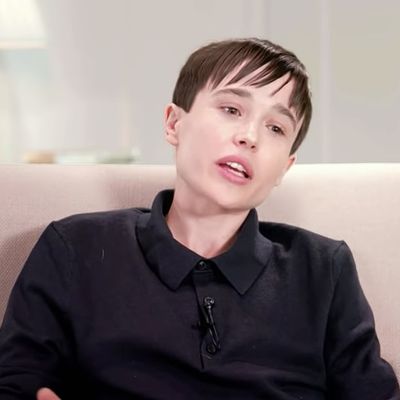 Today, actor and director Elliot Page joined Oprah on her Apple TV+ show, The Oprah Conversation, in his first broadcast interview since coming out as transgender in December. The conversation covered many of the topics he discussed in his March Time cover story and recent Vanity Fair interview, from anti-trans legislation and access to gender-affirming health care to transphobia and matters affecting trans youth.
In addition to trans rights, the conversation honed in on the actor's difficult relationship with fame and his body before transitioning. When reflecting on his early celebrity — particularly the period between Juno and Inception, in the late aughts — Page became emotional. "It felt impossible to communicate to people how unwell I was," he explained to Oprah, describing the dissonance between his physicality and how he felt internally. "I couldn't express the degree of pain I was in."
Juno, the 2007 film in which he played a precocious teen girl who accidentally becomes pregnant, was Page's breakout role, and thrust the then-20-year-old actor onto the global stage. To Oprah, he detailed a painful press tour and said he was unable to look at his red-carpet photos from the 2008 Oscars, which he attended as a nominee for Best Actress. His distress peaked several years later during the press rounds for Inception, another blockbuster that pushed Page back into the global spotlight and into the gowns and heels that he hated wearing. According to Page, the difficulty of this time was so intense that the anxiety and panic would lead him to collapse at events.
Page has touched on these experiences in his recent interviews — indeed, the actor, who has been acting for nearly 20 years now, has been extremely candid with the public, first announcing that he had transitioned in a letter on social media. But to see him speak on-camera with the same sincerity he's upheld throughout this period, in conversation with a listener as empathetic as Oprah, is moving. When asked what the most joyful part of his life is these days, he said, with an evident sigh of relief, that it's the little things: "Getting out of the shower and the towel is around your waist and you're like, There I am."