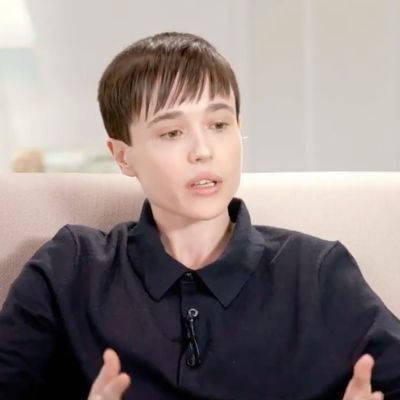 Elliot Page is the latest guest to join Oprah on her AppleTV+ show The Oprah Conversation in his first TV interview since he came out as trans in December. Page posted a trailer of their conversation, which will be released this Friday, in an Instagram post:
In the clip, Oprah asks Page about the moment he made the decision to come out, which he announced in a letter on social media.
"For me I think, in this time that we're in right now, and especially with this horrible backlash that we're seeing towards trans people, and especially trans youth, it really felt imperative to do so," Page says. "And also with this platform I have, the privilege that I have, and knowing the pain and the difficulties and the struggles I faced in my life — let alone what so many other people are facing — it absolutely felt just crucial and important for me to share that."
Since he came out last December, Page has used his platform to speak out against transphobia. In a cover story for Time last month, he emphasized that access to trans health care is "not only life-changing but lifesaving." In a new interview with Vanity Fair, Page said that the recent wave of anti-trans legislation motivated him to sit down with Oprah, noting that "these bills are going to be responsible for the death of children." Page said he saw the interview as an opportunity "to speak from my heart about some of my experiences and the resources I've been able to access — whether therapy or surgery — that have allowed me to be alive, to live my life."
The interview will start streaming this Friday on AppleTV+.