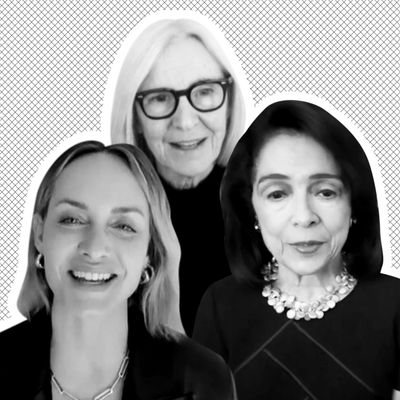 On April 13, the Fashion Institute of Technology (FIT) hosted its first-ever Sustainability Awards to kick off its 15th annual Sustainable Business and Design Conference. The awards were broadcasted virtually and hosted by model and activist Amber Valletta. The event honored three "Changemakers in Action" — Eileen Fisher, Abrima Erwiah, and Stacy Flynn – for their contributions to the fashion industry and groundbreaking efforts in the sustainability space.
Amber Valletta kicked off the event by listing the efforts FIT itself has made toward sustainability, including weaving sustainability into its curriculum, and the college's usage of solar panels, beehives, and green spaces on their roofs for natural coloring for dyeing textiles.
FIT president Dr. Joyce F. Brown presented opening remarks and spoke about changing the fashion industry's environmental impact through FIT's efforts. She discussed the college's partnerships with MIT, IBM and New Balance to create more sustainable solutions. Most notably, Dr. Brown mentioned that FIT's sustainability efforts over the past ten years have reduced their carbon footprint by more than 55 percent.
The first honoree and FIT alumna, Stacy Flynn, received the Changemaker in Sustainable Innovation award for her work with her textile-innovations company, Evrnu. During her acceptance speech, she discussed the roots of her passion for sustainability: seeing the air pollution in China while she was on a business trip. "I came back from that trip not exactly knowing how to handle it, but I ended up moving into graduate school and started studying the problem." said Flynn.
Abrima Erwiah, co-founder of Studio One Eighty Nine, was honored with the Changemaker in Social Impact award. Studio One Eighty Nine specializes in various traditional craftsmanship techniques, including natural plant-based indigo dyeing, hand batik, and weaving. Erwiah gave her acceptance speech from a factory in Ghana, where the brand is working on its next collection. "Let's do more, let's keep going," said Erwiah. Following her speech, viewers were taken on a virtual tour of her factory.
Finally, designer Eileen Fisher received the Changemaker in Corporate Sustainability award for her company's work in recycling clothing and its "Vision 2020" promise, made in 2015, to use sustainable materials in all of its products by the year 2020. During her acceptance speech, Fisher gave advice on designer and wearer sustainability. "We can all participate in healing the planet and making the world a better place," she said.
The event highlighted voices of current FIT students, who spoke bout their passion for sustainability, and occurred shortly after FIT graduate students debuted their graduate fashion show 7 Collections.
FIT's Sustainable Business and Design Conference will be available to stream through April 16. You can register for the event here for access through Earth Day (April 22).