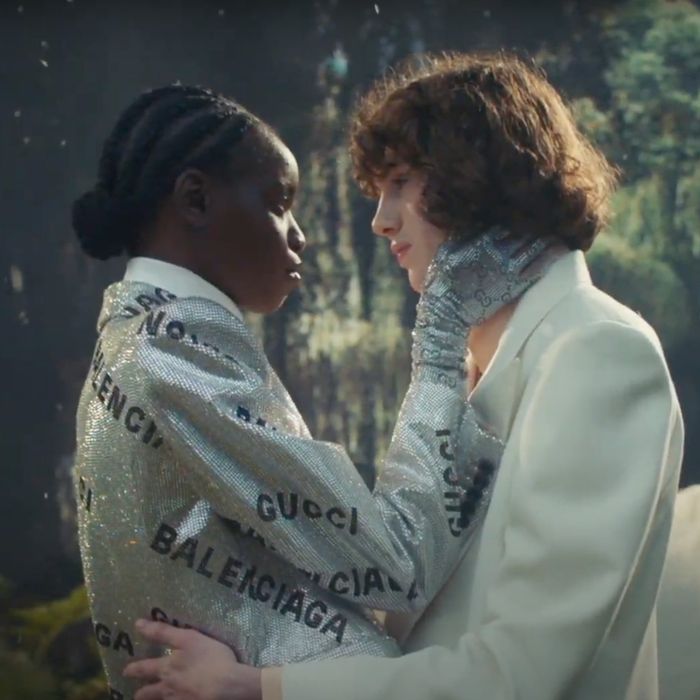 On Thursday, Gucci threw a party and everyone was invited. In celebration of the brand's 100th anniversary this year, creative director Alessandro Michele brought back the houses's greatest hits, from equestrian gear to Tom Ford–era sexiness. He also introduced something totally new: the codes of Balenciaga. Yes, the rumors are true: Gucciaga, or Balucci, or whatever you want to call it, is real. Although they're not calling it a "collaboration." Instead, it's an example of Alessandro Michele "hacking" Demna Gvasalia — i.e., swiping a selection of his Balenciaga designs for the collection — per a press release.
The runway show, titled "Aria," opened with a model walking into a fictional venue called the Savoy Club — a nod to London's Savoy Hotel, where Guccio Gucci's story began a century ago when he worked as a bellhop carrying guests' luggage. (Aha!) The model wore a red velvet suit just like the one from Tom Ford's fall 1996 Gucci collection, which Gwyneth Paltrow famously wore to the MTV Video Music Awards. Only this time, it was styled with a leather choker attached by a leash to a horsebit harness, as if to say: And you thought that guy was kinky?
As the show went on, models continued to enter the venue, walking down a long hallway lined with flashing cameras. The soundtrack was a sampling of all the Gucci-themed songs made over the years: "Gucci Gang," by Lil Pump, "Green Gucci Suit," by Rick Ross and Future, "Gucci Flip Flops," by Bhad Bhabie and Lil Yachty … There are a lot.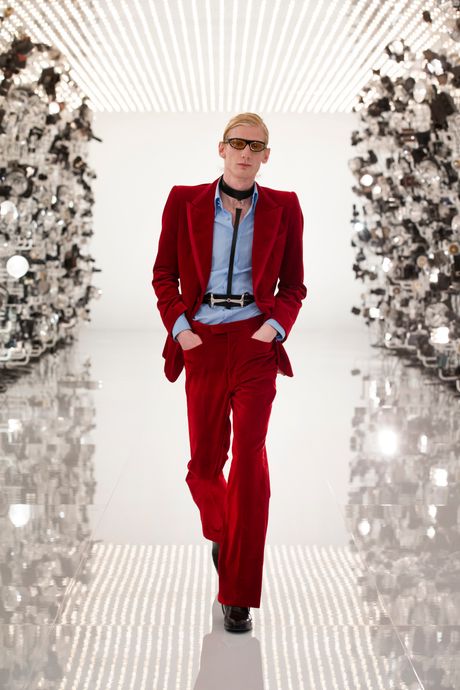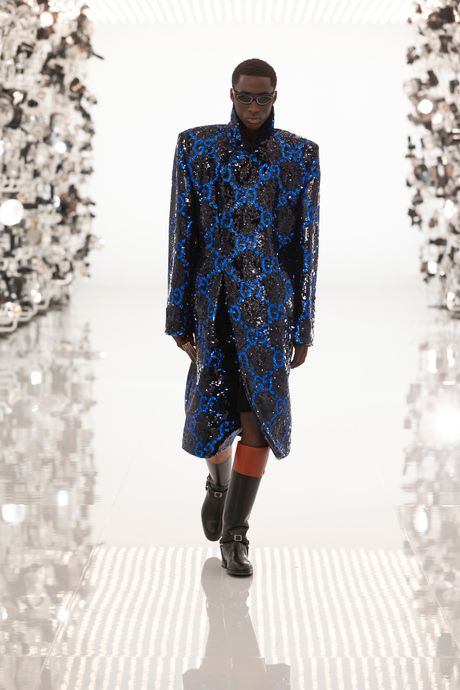 If you were paying attention, it became clear that Balenciaga was involved by around look three, when a model entered wearing a tailored camel coat with powerful, sloped shoulders. As much as Gvasalia is known for his stunts — Crocs, Bernie Sanders logos, knights in shining armor, etc. — he is also known for his silhouettes. (This is, after all, still the house of Cristóbal Balenciaga, who was famous for his shapes.) In addition to the sharp, oversize outerwear, you could also spot Gvasalia's signature boot-leggings and other subtle nods, like tiny sunglasses.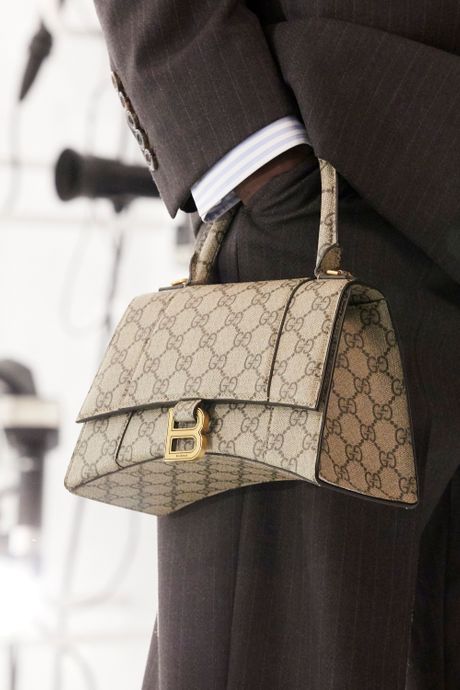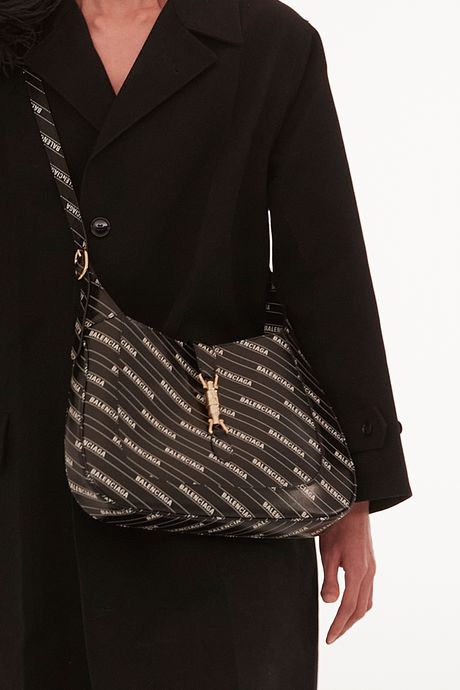 And then, of course, there were the logos. Instead of GUCCIAGA or BALUCCI (I was really rooting for the latter, despite a commenter's saying it sounded like "an Italian meat market in Queens"), we got both brand names existing simultaneously on a garment. Some on social media were quick to point out that the combination of the logos looked fake; but isn't that kind of the point? The collection also featured a diamond charm necklace with the g in Balenciaga written as the Gucci double-g logo — an item that will surely sell out (and be faked a million times over).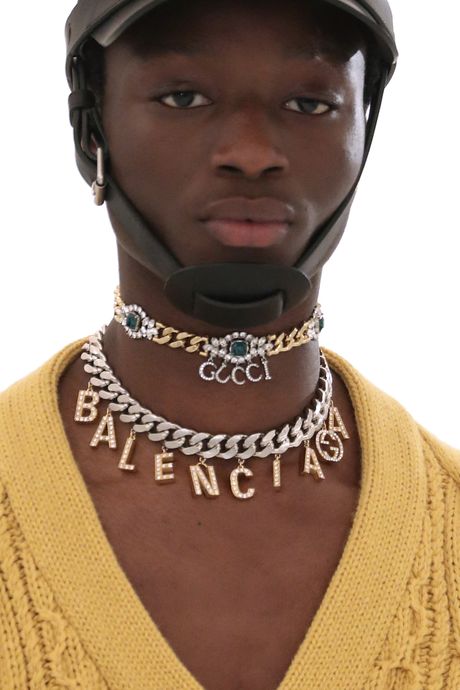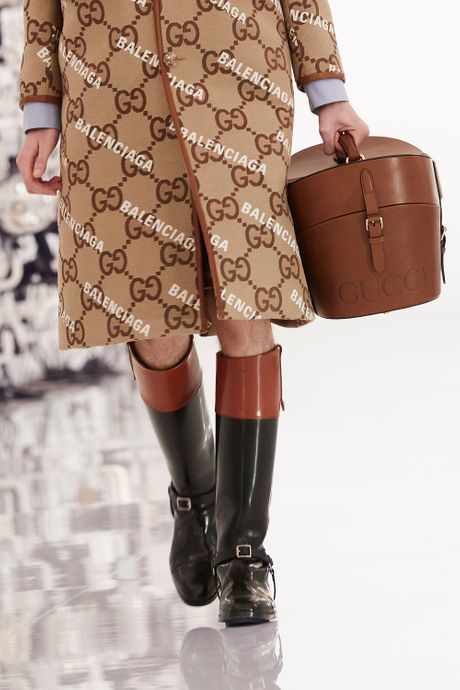 Such a thorough meeting of luxury-minded minds feels exciting and new, and completely genius, at least in terms of branding. Not only has Kering — the parent company of Gucci and Balenciaga — basically doubled the value of its products by slapping not one but two logos on them, they've also strengthened the voice of both brands by letting them sing together as one. Each brings something to the table that the other doesn't necessarily possess. Gucci clearly has name recognition, for example. But do they have a signature silhouette, as Balenciaga does? When was the last time a song called "Balenciaga" topped the charts? Maybe now we'll get a hit single called "Balucci."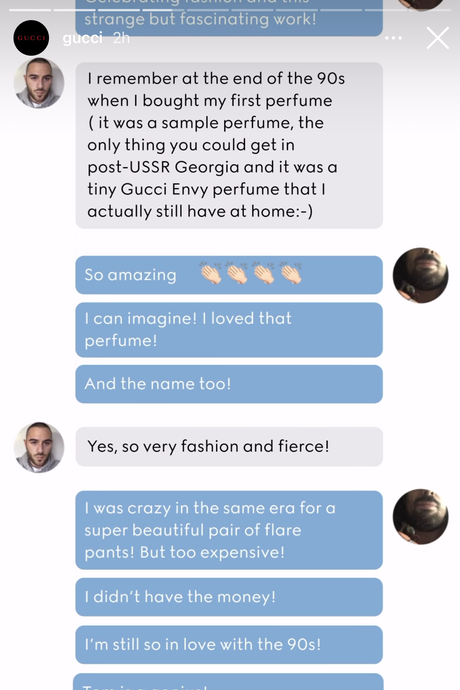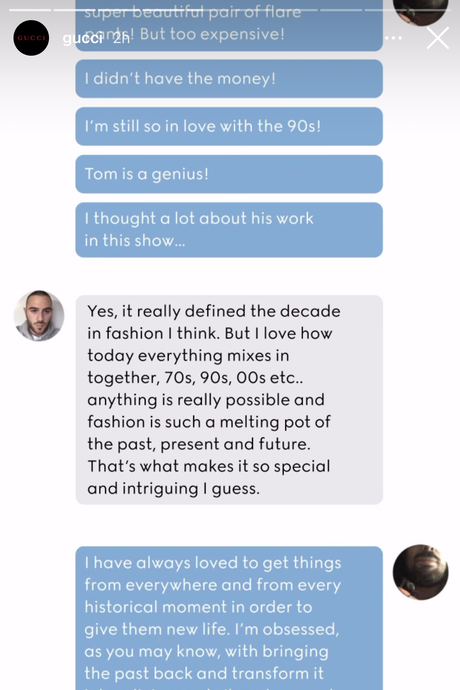 After the show, Michele and Gvasalia exchanged an extremely endearing text-message thread on Gucci's Instagram stories. Their conversation was not unlike the one you're probably having with your fashion-obsessed friends right now, with lots of exclamation points and giddy fanboying. Gvasalia says the first perfume he ever bought was a tiny Gucci Envy sample ("the only thing you could get in post-USSR Georgia"). He still has it at home. Alessandro responds by saying he wanted a pair of Tom Ford–era flare pants but didn't have the money.
"It really defined the decade in fashion, I think," says Gvasalia of Ford's time at Gucci. "But I love how today everything mixes in together — '70s, '90s, '00s, etc. Anything is really possible and fashion is such a melting pot of the past, present, and future. That's what makes it so special and intriguing I guess."
What do you think? Watch the full "Aria" show here and decide for yourself.