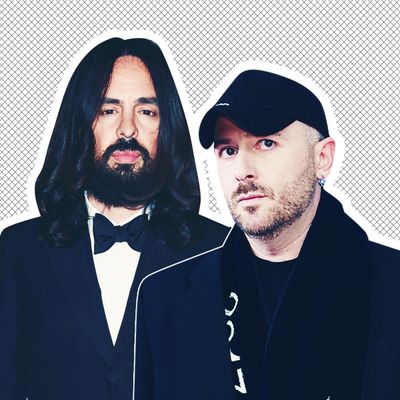 Photo: Courtesy of the brands
During lockdown, I played the game Exquisite Corpse a lot with my friends. You know the one: A group of people draw different body parts on a folded piece of paper without seeing what the other parts look like. It seems like something for kids — there are markers and imagination involved, and my drawing skills haven't much improved since I was in elementary school — but it's just as fun to play as an adult (especially as an adult under the influence). The results are surprising every single time and maybe even actually kind of good.
I was reminded of how fun Exquisite Corpse is today when it was rumored that Gucci and Balenciaga would be collaborating. How exciting would that be?! Neither brand has confirmed the news, but Gucci is scheduled to show its new collection, called Aria, on Thursday morning (ET), so we'll find out soon enough. No other details have been confirmed at this point, only that 2021 marks Gucci's 100th anniversary and that the debut will be "one of the house's greatest milestone moments," per the invite. Suspense!
An aria is a striking solo vocal performance, usually in an opera. This makes it seem as if the Gucci-Balenciaga rumor isn't true. But then again, maybe the idea is that the two brands — both of which are part of the Kering family — are coming together as one voice. [Insert "guy tapping head" meme.] The plot thickens …
Beyond the fact that both Gucci and Balenciaga are hugely successful brands with little to lose, the collaboration would make sense for a number of reasons. During the pandemic, Gucci creative director Alessandro Michele announced that he would be ditching the traditional fashion-show format and calendar, opting instead to show co-ed, seasonless collections twice a year. In November, the brand hosted #GucciFest, a weeklong fashion film festival that highlighted other emerging designers as well.
Meanwhile, Balenciaga creative director Demna Gvasalia expressed a similar desire to do things differently. In December, the brand showed its fall 2021 collection in the form of a groundbreaking video game. Both designers seemed to tap into a childlike sense of freedom and creativity this year, so a game of fashion Exquisite Corpse doesn't seem so far-fetched.
It would also be very now. Gucci and Balenciaga have collaborated with a number of other brands to great success (Gucci x North Face and Balenciaga x Crocs come to mind). But neither has collaborated with a luxury brand before. Dries Van Noten and Christian Lacroix collaborated back in September 2019, and, of course, Miuccia Prada and Raf Simons joined forces at Prada last year as co–creative directors. But a collaboration between Gucci and Balenciaga would open up a new world of possibilities for two major luxury houses to come together for a joint collection.
Whether it happens or not, it's fun to imagine what the clothes would look like. Gvasalia and Michele have totally different aesthetics, but both seem open to Frankensteining fashion and seeing just how far they can push the fantasy. Will they pool their funds and build a time machine that drops you off in a decade of Billie Eilish's choosing? Will Jared Leto's head be turned into a hologram and sold as an NFT? What would it look like if the Renaissance and the early aughts had a baby? All I know is that if there's a limited-edition logo T-shirt that says "Balucci," I'm buying it.