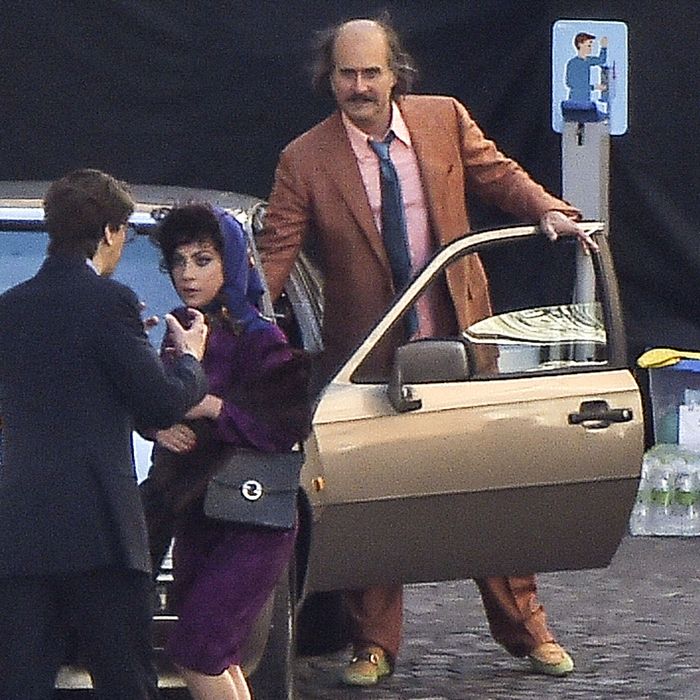 Ciao bello.
Photo: MEGA/GC Images
Look at the above photo; look at Jared Leto's wispy pate, his rumpled blazer, his lived-in salmon shirt, untucked. How does it make you feel? Curious about how Leto got his whole lustrous mane inside that bald cap, or maybe gleeful, unable to suppress a snort? Good, overall? Now consider that pic of a brown-wigged Lady Gaga cramming a giant pastry into Adam Driver's big bespectacled face — did you like what you saw there? Did the image spark joy? For many of us, I think, the answer will be an unequivocal sì, molto; the paparazzi shots leaking from the House of Gucci set have been a series of small blessings. But for members of the Gucci family? Horrifying, offensive, et al.
"We are truly disappointed," Patrizia Gucci told the Associated Press, speaking for all the Guccis. "Our family has an identity, privacy. We can talk about everything, but there is a borderline that cannot be crossed."
Patrizia is the second cousin of Maurizio Gucci, whose 1995 murder — commissioned by a different Patrizia, Maurizio's ex-wife Patrizia Reggiani — anchors Ridley Scott's forthcoming crime biopic. The movie chronicles the couple's relationship, the hit, and Reggiani's trial and conviction, and while Patrizia expressed concerns about the plot delving too deeply into private matters, she also considers the visuals she's seen so far to be an aesthetic affront. The casting of Aldo Gucci, for example: "Shameful" and hideously inaccurate, in Patrizia's unvarnished opinion.
"My grandfather was a very handsome man, like all the Guccis, and very tall, blue eyes and very elegant," she explained, again on behalf of the whole family. "He is being played by Al Pacino, who is not very tall already, and this photo shows him as fat, short, with sideburns, really ugly."
And please do not even get her started on that photo of Jared Leto, serving his best Paolo Gucci in a mauve corduroy suit. Patrizia, however, does not remember her father ever looking like a funky Dr. Phil. "Horrible, horrible," she said of the look. "I still feel offended."
Meanwhile, those images of Driver's Maurizio and Gaga's Reggiani in chic après-ski attire were conspicuously spared from Patrizia's critique. No one can resist the lure of a big cozy boy in a big cozy sweater, it seems.