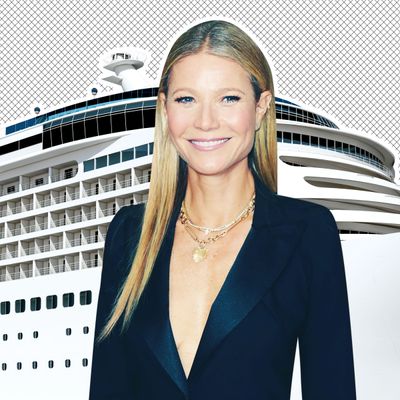 :upside_down_face: emoji
Photo-Illustration: by The Cut; Photos: Getty Images
Years ago, in January 2020, Gwyneth Paltrow — of vagina-egg fame — made an ominous announcement: She and her wellness brand would be setting sail on a Mediterranean cruise, and you, yes, you, were invited to join (provided you had a couple thousand dollars to burn). But then the coronavirus pandemic intervened, spreading like wildfire through brush aboard multiple megaships, marooning thousands on the water, and effectively scuttling the "Goop at Sea" dream. Or so we thought! Then came Paltrow's cryptic Wednesday Instagram post.
"I am always happiest by, in or on the sea!" she wrote, heralding the 2022 return of her Celebrity Cruises partnership and, yes, the Goop Cruise. It's happening again. Paltrow said her team is already busy "curating programming and fitness kits to add to Celebrity's wellness experience." She is purportedly "sworn to secrecy" on further details, but Fast Company notes that the aforementioned fitness kits were designed with "enhancing self-care and collective well-being" in mind. If that gives you any more information.
Last year, "Goop at Sea" was billed as a one-day program, available for an added $750 fee, offered exclusively to cruise passengers who booked suites. But then, "Goopified perks" were supposed to "pop up" throughout the 11-day cruise. Explaining the reasoning behind the Goop-cruise concept, Paltrow told USA Today that "energetically, it's very cleansing to be near the sea or in the sea," and also that she had been inspired by the "massive success" of the company's "In Goop Health" wellness summits. A potentially surprising point, given the furor around her flagship summit in 2019 — "GP is a fucking extortionist," one guest reportedly complained — but perhaps she has now perfected the method.
Personally, though, I think that if the circles of hell were not concentric but instead arranged as a Venn diagram, a pandemic-era wellness cruise would be the point of overlap. Goop has faced criticism from public-health experts (such as the head of England's NHS) for peddling snake oil on its website and with its Netflix program, The Goop Lab. But the real issue, to my mind, is the fact that cruise ships are giant Petri dishes, yet they keep trying to get back out on the water despite the ongoing problem that is COVID. Every time the cruise lines succeed, coronavirus outbreaks seem to ensue, but the tourism industry wants what the tourism industry wants, and so the CDC has "committed" to resuming voyages by midsummer. This is a sharp pivot from its previous proposal that "all people [should] avoid travel on cruise ships," a statement with which I agree, generally speaking. Anyway. Batten down your hatches for coffee colonics on the high seas!