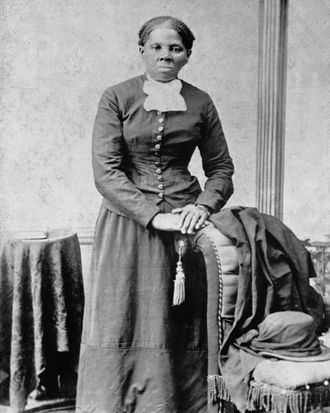 Famed Underground Railroad conductor Harriet Tubman.
Photo: Corbis via Getty Images
After uncovering a trove of datable artifacts buried in the soggy terrain of Dorchester County, Maryland, archaeologists believe they've finally located the long-elusive site where legendary abolitionist Harriet Tubman's family home once stood. On Tuesday morning, state and federal leaders gathered at the Harriet Tubman Underground Railroad Visitor Center to announce the discovery of the cabin belonging to Tubman's father, Ben Ross — which holds a significance that is difficult to overstate. As one Tubman descendant put it, the news is "truly inestimable."
According to the Washington Post, the search effort began last year when the U.S. Fish and Wildlife Service bought a 2,600-acre tract of land for the Blackwater National Wildlife Refuge, which is slowly being engulfed by rising waters. When refuge manager Marcia Pradines learned of the deal, she reached out to state officials, noting that Ben Ross's cabin was believed to be situated somewhere in the swampy area, and that it might be worth sending in an archaeologist.
The tip piqued the interest of Julie Schablitsky, the chief archaeologist with the Maryland State Highway Administration, who went on to spearhead the excavation. Last October, she and her team dug over 1,000 pits in the waterlogged ground, seeking artifacts, which proved to be largely fruitless. But one day, Schablitsky had what she called her "eureka moment": Using a metal detector, she found a coin emblazoned with the year 1808 — around the time Tubman's parents were believed to have married. The coin "told us that we were on the right path, that we were getting closer," she told the Post.
The team returned to the area last month, where they excavated a multitude of datable artifacts: bricks, 19th-century pottery with distinct design patterns, rusty nails, a button, and old records, among other items. While they didn't find a foundation for a home, the archaeologists determined they had enough evidence to declare the area the former site of Tubman's family cabin.
According to historical records, Ross's former enslaver bequeathed the cabin and ten acres to Ross when he was freed, around 1839. While Tubman, born around 1822, was still enslaved at this time, Tubman biographer Kate Clifford Larson told the Post that she managed to live in her father's cabin before she escaped to freedom in 1849 — and went on to become a famed conductor along the Underground Railroad.
"She would've spent time here as a child, but also she would've come back and been living here with her father in her teenage years, working alongside him," Schablitsky said in a news release. "This was the opportunity she had to learn about how to navigate and survive in the wetlands and the woods. We believe this experience was able to benefit her when she began to move people to freedom."
While Pradines told the Baltimore Sun that much of the area is "going underwater" — while sea levels are rising, land is also sinking — the site will likely open to the public with a year or two, and will eventually clinch a spot on the 125-mile-long Harriet Tubman Underground Railroad Byway. Meanwhile, the artifacts are expected to go on display at the Harriet Tubman Underground Railroad Visitor Center.