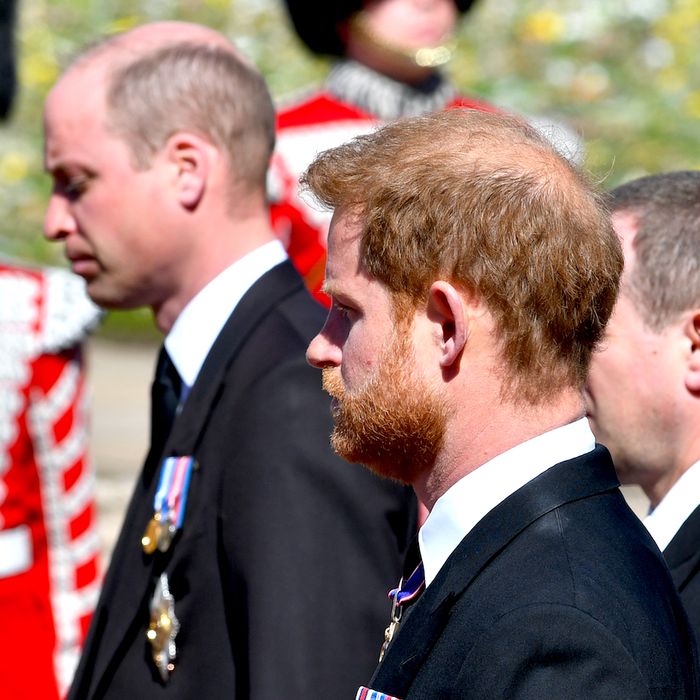 Princes Harry and William.
Photo: Mark Large/Getty Images
Ahead of Prince Philip's funeral on Saturday, coverage of Britain's royal family largely focused on the rumored rift between Princes Harry and William; namely, on what might happen when these two beefing brothers locked eyes for the first time in a (singularly rocky) year. Nothing untoward, as it turns out: It appears that William and Harry sat respectfully through their grandfather's service and were even "seen chatting," yes chatting, together after it concluded.
This is probably not very surprising given the circumstances of William and Harry's reunion, the palace's preference for polite appearances at all times, and its stated refusal to bow to any "perceptions of drama" in this particular moment. But still, tensions have reportedly been running high since Harry announced his departure from royal duties early last year and only escalated after the interview he and his wife, Meghan Markle, gave Oprah in March. During that exchange, Meghan recalled feeling utterly neglected by Harry's family in the face of "almost unsurvivable" media harassment. She also said certain in-laws has raised "concerns about how dark [Archie's] skin would be" before he was born, prompting William to go on the offensive about how the royals are extremely not racist and, allegedly, to accuse Harry of "putting fame over family."
Conversations between the pair reportedly broke down after the interview, but according to Vanity Fair, the queen ordered them to "put their differences aside" for the funeral. She also stationed a cousin, Peter Philips, between them for the processional behind their grandfather's casket, but per Vanity Fair, he dropped back and allowed William and Harry to (sort of) walk side by side. And then came the chatting! No word yet on the substance of said chatting, but the whole thing looked very reserved and civil, what else could one expect?