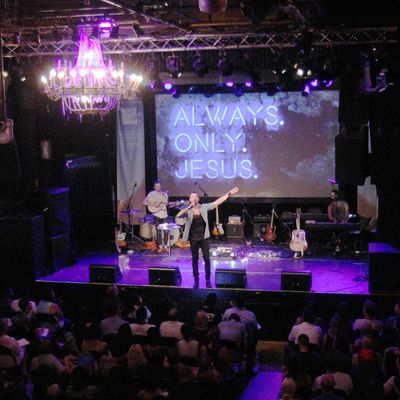 A Hillsong service ft. former church leader Carl Lentz, who resigned amid a different sex scandal last year.
Photo: Tina Fineberg/AP
Sexy scandals continue to bedevil the celeb-beloved Hillsong Church: A married pastor at the Montclair, New Jersey, branch has reportedly resigned after salacious images of his scantily clad bod surfaced online. According to the Daily Mail, Darnell Barrett recently shared a selfie — in which he wore nothing but a pair of compression tights that clearly highlighted "what appeared to be his engorged member," per the tabloid — to his Instagram stories. He claimed he only sent the message to his "close friends" circle, but it also landed in a former Hillsong volunteer's direct messages. This volunteer was conspicuously not Barrett's wife, and although he insisted to the Mail that the whole thing was "an honest mistake," he has stepped down from his position as Creative Director at the church.
"We thought it was best for me to move on. I don't want to get into the details," he reportedly told the tabloid when approached outside his home. "This was something that was just an honest mistake, and I informed my wife as soon as it happened." With regards to the volunteer who received his selfie, he added: "'I was not at all trying to lure her. I get that she, within the context of what's happening with Hillsong, that she would draw those conclusions. But I barely know her. That was not my intention."
The Cut has contacted Hillsong East Coast for confirmation of and comment on Barrett's resignation and will update this article if we hear back. In the meantime, the Mail reports that Barrett messaged the volunteer after sending her the gym selfie, explaining: "I think I might have added you to my close friends list by accident. I'm so sorry. I'm trying to figure out how the hell to edit it." Barrett quickly got it sorted, saying "it's some real raw shit I send to my friends, man" and apologizing again.
The brief exchange, screenshots of which the Mail published, admittedly looks friendly enough, but the volunteer blocked Barrett after he told her, "Seriously sorry about that. I guess." She then came back with two longer follow-up messages, clarifying her belief that he was trying to snare her in a "'fishing' scheme" using a sexy selfie.
As to "the context of what's happening with Hillsong," that would be the calamity of "moral failures" that unfolded around "hypepriest" Carl Lentz last fall. Lentz — whose flock once included Justin Bieber and Selena Gomez — presided over Hillsong East Coast, until it emerged that he had been "unfaithful in [his] marriage." Pastor Abs had long assumed the position of holy party boy, often posturing as a celeb himself; at the time of his termination, Hillsong explained that the decision to let him go came after "ongoing discussions in relation to leadership issues and breaches of trust."
Hillsong, as a Pentecostal brand, has also come under scrutiny for its financial dealings. In Australia, where Hillsong originated, it reportedly raked in an untaxed $80 million in 2014 that afforded prominent figures incredible luxuries; unsurprisingly, its leaders have preached financial enrichment as a godly virtue. Then, there are the accusations that the Church helped cover up child sex abuse allegations against co-founder Brian Houston's father. Hillsong has also come under fire for its hostility toward LGBTQ+ "lifestyles." But particularly given Lentz's adultery scandal, the megachurch has recently found itself barraged by negative press. For his part, Barrett informed the Mail that he simply "want[s] to move forward" and "to work on healing and repairing [his] marriage."