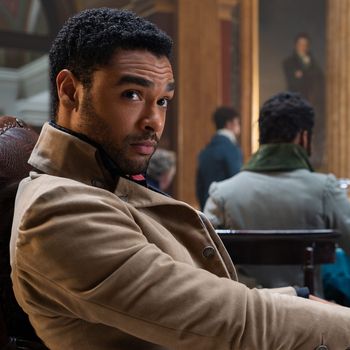 Photo: Courtesy of Netflix
Ladies and gents and area spoons, I have some terrible casting news for you. Regé-Jean Page, known for his titillating dessert-eating abilities in Bridgerton, will not be returning for a second season, which probably means I won't be either.
This was somewhat expected, given that the Julia Quinn novels on which the series is based rotate the dashing Duke of Hastings character out in the second book, but that doesn't make the news any less horrible. It came via a statement from Lady Whistledown, author of the Gossip Girl–esque society rag responsible for much of Bridgerton's drama:
"We'll miss Simon's presence onscreen, but he will always be a part of the Bridgerton family," it reads. "Daphne will remain a devoted wife and sister, helping her brother navigate the upcoming social season and what it has to offer — more intrigue and romance than my readers may be able to bear."
That's all very well and good, and Page is landing many a well-deserved role. But "miss his presence" sort of misses the point; the disgustingly hot and tall hero of Shonda Rhimes's hit period show is the reason we're all watching.
Of course, Daphne will still be around, but who really cares what she gets up to without the Duke. Also, what about their kid? Are they just going to kill Simon off? Send him on a business trip? Who really knows? All I know is that we'll never get a moment like this again, and that's a tragedy: