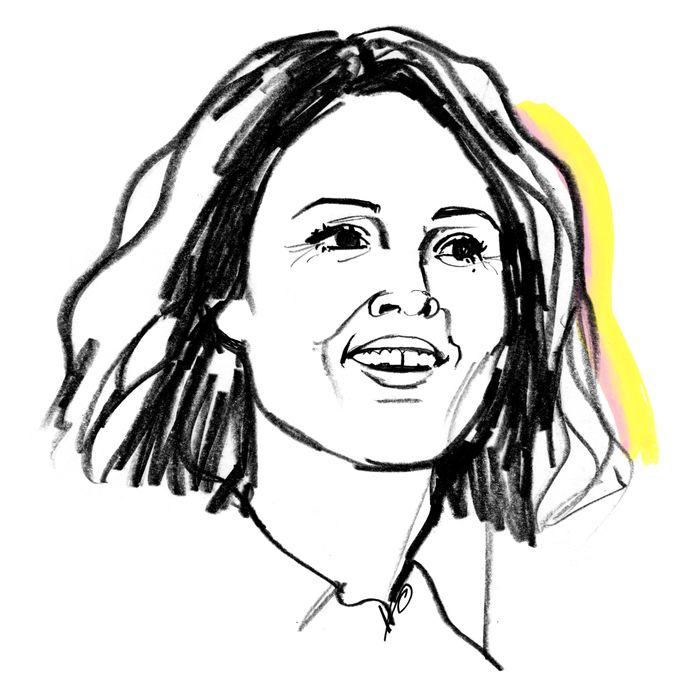 Illustration: Lauren Tamaki
Brandi Carlile defies categorization — she is country, she is pop, she is Americana — but most of all, she's out to make the world a better place. The 39-year-old singer-songwriter has produced six studio albums, established an all-female-fronted music festival, teamed up as one of The Highwomen, and just won her sixth Grammy. She also started a foundation that supports nonprofits addressing everything from racial justice to homelessness. Carlile published her memoir, Broken Horses, just last week, and has launched a virtual book tour. She spoke to the Cut about bringing her infant on the road, being a Gemini, and the joy of fishing. She currently lives in a cabin in rural Washington with her wife and two daughters, a chicken, a dog, and two cats, all together on a compound with bandmates and old friends. Here's how she gets it done.
On her typical (pandemic) daily routine:
My wife is amazing. She gets up before me and she gets coffee for me and Matcha tea for her. And she gets our 6-year-old up and on Zoom for her morning school meeting, and turns on all the lights and opens all the windows. I get out of bed, and I have to start a fire in the morning because we're out in the woods. I drink coffee and start working. I head out to my recording studio, where I'm recording, writing, doing interviews, and running our business and our team.
Later, we take turns making lunch. As a family, we take a hike out in our woods, or go work in our garden, and spend some time in the middle of the day together. Usually in the rain, because of where we live.
I go back out to the studio for the evening and I usually make dinner. We cook breakfast, lunch and dinner here, because we don't have restaurants or Uber Eats. Nobody delivers [this far from Seattle] — not even pizzas. Later, we get the kids to bed and watch movies, play music, talk politics until our eyes close. I make a big fire before we go to bed, and dampen it down for the night, so that when we wake up the house isn't cold.
On her cabin in the woods:
I live in the same log cabin that I bought when I was 21. As I get older, my family grows, and things change about my life. We added a little nursery when the kids were born, and then we added a deck. We built a chicken coop. My dad's a carpenter and I've always been fascinated with the way that he can make wood work like clay, how it does whatever you want it to. Over the years I've been buying tools and learning how to do some basic carpentry myself. I really, really enjoy it. I can never quit — I've got three projects going right now.
On compound living:
I moved here first, and then the twins (in my band) started buying acreage near me. Phil, one of the twins, married my sister Tiffany. And Josh, our cellist, moved here from Ballard [in Seattle]. He married my wife Catherine's younger sister, Sarah, and they had a little girl. We grew up out here with our engineer, Gerry, who married Catherine's other little sister. There are a whole bunch of siblings, and seven kids. My ex, Kim, moved back here after all this time with her girlfriend, Nicole. Kim is important to me, and she's a pain in my ass. Many hands make light work. We're able to support each other emotionally, and in so many other ways.
On touring with a newborn:
I learned a lot about kids before I had one because I watched Phil and Tiffany have one. It's amazing what they will adapt to, if they have love. Where they live really doesn't matter to them. Now, it can really matter to you … on my Pin Drop tour, in 2014, playing without a PA system, every part of the production had to become small. Usually we didn't have dressing rooms, and everything was really cold. There was nowhere for the families to hang out except on a bus. A 45-foot-long bus with two breastfeeding infants and a toddler and a non-verbal toddler is a frightening place. Our marriage got put to the test right off the bat by trying to raise our family on the road. It was a real masterclass in endurance and unconditional love.
On motherhood:
I asked myself: Who am I in this equation if I'm not pregnant? And if I'm not "the mother," then what am I? I didn't have any examples. I had to seek them out. I had to imagine them. I had to sing them and write about them. Eventually, I was able to fall in love with my children and also my own motherhood in my own unique way. That's the beauty of being LGBTQIA — you really do get to color outside the lines. But it can be painful too, because sometimes you don't feel like you belong inside of any lines.
On belief:
Well, I have utterly rejected religion and it's utterly rejected me. So we've had an amicable divorce — but faith and spirituality, they have a funny way of emerging on their own. For Evangeline, my 6-year-old, questions are coming up naturally. There are things she gravitates towards that are mystical and beautiful to me. I'm often asking her questions about her representation of faith and how it's emerging. I'm more curious about that than anything I have to teach her, because I believe on some fundamental level that as you get older, you get less and less in touch with the divine — so many distractions come in and your imagination gets limited.
On being "a total cliché Gemini":
I am two really distinct people. One side of me is really connected to the earth and really connected to people on a level that's kind of rugged and based in fishing and the outdoors and big, deep conversations about real shit. The other part of me is Shakespearean and eccentric and wants to be glamorous and have the best singing voice possible and succeed in every single thing I do. Those two women need to be highly aware of each other at all times, because when one isn't, (a) I'll get sick, but (b) I will get unhappy and someone will have to redirect me.
On slowing down:
My wife and I work together — she's just as driven as I am. But when we're in our best head space, and we're scheduling, and I'm dreaming, walking around the house gesticulating about all the things I'm going to accomplish, she'll say things like, "Do you think you should plan a fishing trip?" Or, "When in there do you think we could go camping?" Things that make me feel like me.
We bought an aluminum fishing boat at the beginning of COVID. We named it Captain Fantastic, after Elton John. There's a big bed in the front and we all sleep there together. We got a pot puller, so we catch shrimp and Dungeness crab and lingcod and sea bass and salmon and halibut. We camp out in these little San Juan Island coves. We roll up, get tied up on a buoy, get the barbecue going, and listen to music. The kids jump in the water and play on kayaks. It's hugely stabilizing and grounding for me and for us as a family. That's one of the ways that we identify ourselves as "Carlile," as a unit.
On what she will and won't post:
It's a very fine line between representation and exploitation on social media. I know that I want and need to represent my family online, because it's important for other LGBTQIA individuals and the people in their lives to see families [like mine] — the way that they interact, the way they walk through their day — in all forms of media. But at the same time, it's really important not to do anything that will embarrass or hurt my kids, or put them in danger. So, I'm careful and thoughtful about what I do. We're pretty wholesome and innocent people. We have a lot of fun. And I just want other queer families to know that it can be done.
On carving out space in the music industry:
The best way to break in is to build communities with people that inspire you, that you can play with, work with, bounce ideas off of, and write with. Not just music, but editorial stuff and op-eds, and opinions about the way that you see the world. People that, deep down in your heart you can be happy for, and who can be happy for you. Once you create a scene, you create something that's undeniable to the world, as a whole.