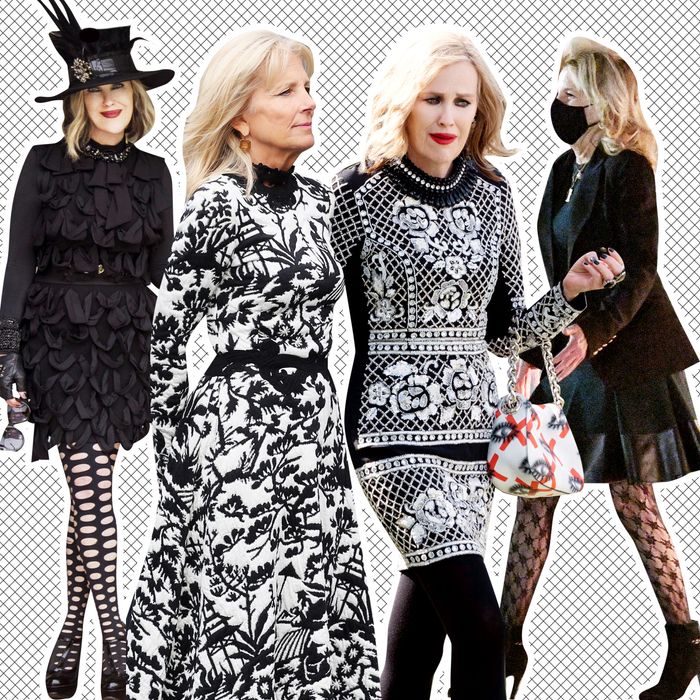 Photo-Illustration: by The Cut; Photos: Getty Images, Shutterstock
First Lady Dr. Jill Biden debuted an edgy look the other day while deplaning somewhere in California. And when I say edgy, I don't mean, like, "Meghan Markle wears a double piercing" edgy; I mean lace-patterned fishnets, platform booties, and an LBD with leather trimming:
The outfit briefly set Twitter on fire, mostly because it surprised people, but a brief look back at Dr. Biden's past reveals that she has a history of favoring dramatic, black-and-white looks. What's more, this latest look contains very strong evidence of what I suspect has long been her style muse: the inimitable Moira Rose of Schitt's Creek. 
Moira — the spoiled, eccentric, and exceedingly dramatic matriarch of the sitcom — is well known for her splashy sartorial sense. And while FLOTUS has yet to don a wig or cossack hat, this isn't her first time wearing something more than a little Moira-esque.
Just look at this leather shift dress she wore on Late Night With Seth Meyers back in 2016 (is it a coincidence that Schitt's Creek premiered the previous year? Perhaps … perhaps not):
Moira, too, is a great lover of leather. Of course, the character's overall aesthetic is a bit witchier than Biden's, but the basic building blocks are there. (In fact, if Biden added tiny fingerless gloves, her latest look would pretty much be this.)
Other styling notes FLOTUS seems to be drawing from include Moira's affection for almond-toe platform booties, a nipped-waist silhouette, and a monochrome palette (although Biden loves a pop of color, usually a bright shoe):
This look, with different accessories — namely, a neck ribbon or metal statement necklace — could also be very Moira:
So is any funky sculptural look, really. An aggressive peplum or puff sleeve is very "Moira goes to a barbeque," and while Biden opts for more subtle silhouettes, she's not afraid to go big:
And honestly, what has more drama than knee-high Stuart Weitzman boots with VOTE scrawled across the back:
But who's to say, really, if this is the First Lady's innate fashion sense, a stylist's doing, or her deliberately channeling Moira Rose. Personally, I expect the evidence to mount, and if she's already game for chain-detail booties, I can only hope there's a glitter-boot moment in the near future.