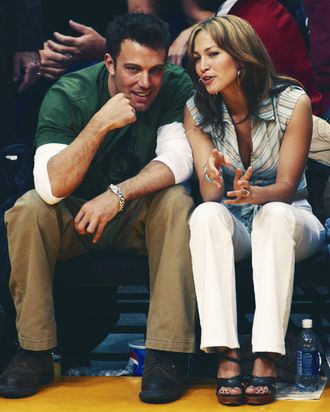 Photo: Vince Bucci/Getty Images
It appears that J.Lo and A-Rod are both coping with their split in peak pandemic-breakup fashion. A-Rod is posting cringey Instagrams, while J.Lo is apparently texting her ex. According to "Page Six," Ben Affleck has been spotted multiple times being picked up by a white Escalade SUV (allegedly J.Lo's) and taken to J.Lo's L.A. mansion (after stashing his car at the nearby Hotel Bel-Air). As you may recall, Affleck is going through a recent pandemic breakup of his own after splitting with Ana de Armas in January.
The pair have yet to actually be seen together, but a source told "Page Six" that "security picks him up at a nearby location and drops him off after spending a few hours at her house." Affleck was also seen at the Hotel Bel-Air on April 22, and A-Rod and J.Lo were seen having a post-breakup dinner there the very next night. Hmmm.
After her engagement to Affleck was called off in 2002, J.Lo called it "the worst heartbreak of her life," but the two have supposedly always been "friendly exes." And indeed, in her recent InStyle cover story, J.Lo is quoted as saying, "Ben is funny! He still looks pretty good, too." Oh, boy. How did we not see this coming?