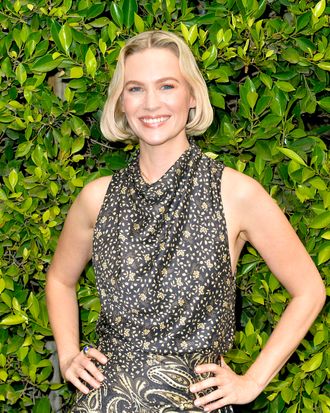 January Jones.
Photo: JEROD HARRIS/Getty Images
For more than a year now, January Jones has been meticulously documenting her pandemic life on Instagram: the (very) good; the bonkers; and now the bloody. Over the weekend, the actress made it known that her home has recently been under siege by a plague of serpents, one of which bit her dog, leaving her no choice but "to bludgeon yet ANOTHER rattlesnake." Yet another! Please, a moment to let that sentence sink in.
Importantly, though, this is not a Betty-Draper-shooting-birds-in-the-backyard-just-to-feel-something situation. Jones takes no pleasure in clubbing the reptilian residents of her garden. It is just that a "baby rattler" landed her bernedoodle, Vinny, in the animal hospital on Wednesday. In an Instagram post, Jones said she caught and released the culprit, clarifying on Friday that Vinny was "tired out but doing well." But it seems the snakes just keep on coming. Shortly thereafter, Jones shared a (now expired) video of herself on her back patio, a big floppy hat on her head and a croquet mallet gripped in both hands. "I almost cried," her text explained of the subsequent clobbering. "I'm sorry snake family, this house is taken."
Unfortunately, snake season in California is only just beginning. Rattlesnakes reportedly emerge from hibernation in April, and pose a distinct risk to dogs who like to hold "their nose[s] to the ground while investigating the outdoors," per NBC. So let this be a warning to the snakes, I guess: Jones's "current vibe," according to her Instagram, is Indiana-Jones-with-machete. Look out!