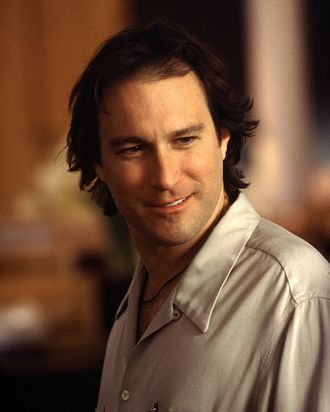 Aidan.
Photo: Craig Blankenhorn/Hbo/Darren Star Prods/Kobal/Shutterstock
Aidan hive, assemble: John Corbett, known to Sex and the City fans as "the one that got away" or, simply, Aidan, has revealed in an interview with "Page Six" that not only will he appear in the SATC reboot, which will be titled And Just Like That, he may be in "quite a few" episodes.
So what does this mean for the show's mysterious plotline? So far, we know that Samantha, played by Kim Cattrall, absolutely will not be involved. We also know that Mr. Big, played by Chris Noth, is unlikely to have a large role; in February, "Page Six" reported that he wouldn't be returning, though Noth subsequently logged on to insert some ambiguity, responding to fans with comments like "Everything changes — including announcements in the rags" and "Well if page six says it … it must be true" with a winky-face emoji. We also know that the reboot has unfortunately decided to address COVID. (Whether it will address the racism, transphobia, and gender essentialism that marred the original series remains to be seen.)
But back to Aidan. Sorry, not sorry, Big stans, but Aidan was, in my opinion, the only good boyfriend Carrie ever had. He was a solid man who designed solidly constructed furniture. He wore leather jackets and loved his dog. He and Carrie dated twice: The first time, their relationship ended after a multi-episode arc involving Carrie cheating on him with Big. The second time, they moved in together and got engaged but broke up for good after Carrie rejected his proposal to fly to Vegas and get married. Honestly, Carrie did not deserve Aidan, and I was really happy for him when he married a designer named Kathy and had a baby.
As we all know, Carrie eventually married Big, and they lived somewhat happily ever after until that one movie when she ran into Aidan and they kissed. Which means there are many potential scenarios to explore here!
Personally, I think it's very likely that Big will die or already be dead and appear only in flashbacks. According to a 2018 episode of the podcast Origins, the script for the third movie (which never happened) had Big dying of a heart attack in the shower, though Noth himself disputed the report.
Big's death will leave things wide open for Aidan, who, if I remember correctly, still co-owns a bar with David Eigenberg's Steve, who may or may not return and was last reported to be in negotiations. Maybe Aidan and Carrie will reconnect while she is grieving, or Aidan's divorce from Kathy will inspire him to reach out. (But tbh, Aidan deserves better! Should he even be giving Carrie the time of day at this point?)
We do know Corbett does a great grieving widower (he's truly perfect in the To All the Boys franchise), so maybe Carrie will be the one comforting him after a loss. Whatever happens, I look forward to enjoying his sparkly blue eyes, tall, beleathered frame, and slight twang on my screen once more.