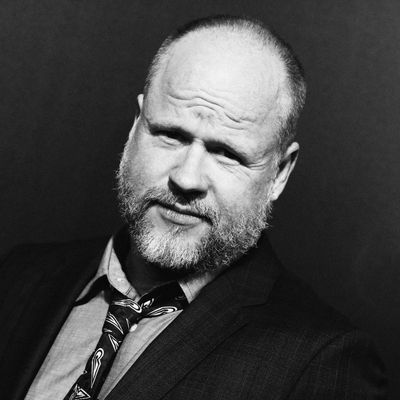 Joss Whedon.
Photo: Matt Baron/Shutterstock
Since the start of his career, Joss Whedon has cultivated a reputation as a progressive writer and director, one whose work — including Buffy the Vampire Slayer, Angel, Firefly, and The Avengers — features strong, complicated female leads. In recent years, his self-described "woke bae" image has shattered. In 2017, Whedon's ex-wife accused him of multiple infidelities during their marriage, all while he was posturing as a male feminist; that year also saw the leak of his egregiously sexist 2006 script for Wonder Woman. More recently, Whedon has been accused of "gross, abusive" behavior on set, first by Justice League actor Ray Fisher. Then Charisma Carpenter — who played a pivotal role in Buffy the Vampire Slayer as well as its spinoff, Angel — confirmed a rumor that has long been swirling in the industry, that Whedon allegedly retaliated against her over her pregnancy.
Whedon "has created hostile and toxic work environments since his early career," Carpenter wrote in a lengthy statement released on Twitter, alongside the hashtag #IStandWithRayFisher. "For nearly two decades, I have held my tongue."
Below, a guide to all the allegations and controversies surrounding the director.
Actor Ray Fisher accused Whedon of "gross, abusive," on the set of Justice League.
In July 2020, actor Ray Fisher fired off a tweet accusing producer Joss Whedon of "gross, abusive, unprofessional, and completely unacceptable" on-set behavior toward the cast and crew of Justice League. When Whedon inherited the superhero consortium movie from its original producer, Zack Snyder, Fisher — who played Cyborg in the film — described Whedon as a "great guy," adding that Snyder "picked a good person to come in and finish up for him." However, in a follow-up tweet, Fisher said he would "like to take a moment to forcefully retract every bit" of that statement. He has also accused producers Geoff Johns and Jon Berg of enabling Whedon.
Following Fisher's accusations — on which he did not publicly elaborate at first — WarnerMedia, the company behind DC Comics, launched an investigation into the claims. Last December, the company announced that "remedial action" had been taken. In January, Fisher posted a lengthy statement on social media, revealing that the company had dismissed him from the cast of the upcoming superhero film The Flash.
On April 6, the Hollywood Reporter published an interview with Fisher, in which he explained both his reticence to detail his complaints against Whedon and the investigation more broadly. Explaining that he is "not looking to have any witnesses lose their jobs," Fisher outlined an internal probe that, to him, seemed intent on protecting Warner executives.
In the beginning, Fisher worked closely with Snyder and screenwriter Chris Terrio to make Cyborg a complex character whose story would "be the heart of the movie," as Terrio put it. Fisher was playing DC's first Black superhero, and Terrio told THR that, "with a white writer and white director, we both [meaning himself and Snyder] thought having the perspective of an actor of color was really important." But once Snyder exited the movie and Whedon took over, Fisher said his character changed substantially, and Whedon seemed resistant to his thoughts about Cyborg's portrayal. While working with the director, Fisher said he often had "to explain some of the most basic points of what would be offensive to the Black community."
Fisher also suggested that Whedon seemed to want Cyborg to smile more, apparently because he and "other top executives" feared making "an angry Black man" one of the film's protagonists. (A rep for producer Geoff Johns insisted that "there are always conversations about avoiding any stereotype of race, gender or sexuality," and that they wanted to add "joy and hopefulness to all six superheroes.") Fisher felt he was being pressured to portray Cyborg as "jovial" and servile and notes that he was the only character made to accept a catchphrase: "booyah." Under Whedon's direction, Fisher said executives seemed to assume "how Black people would respond rather than taking the advice from the only Black person — as far as I know — with any kind of creative impact on the project." Whedon declined to comment on the article.
Charisma Carpenter says Whedon was abusive on set, and created a "toxic work environment."
People have speculated for many years that Whedon retaliated against Buffy the Vampire Slayer and Angel actress Charisma Carpenter after she informed production that she was pregnant. In the fourth season of Angel, her character's story arc took a strange turn for the outlandishly evil, culminating with a coma, from which she never emerged.
On February 10, in an emotional statement released on Twitter, Carpenter finally came forward, publicly accusing Whedon of retaliating against her when she became pregnant. She says he asked her in a closed-door meeting if she was "'going to keep it' … and proceeded to attack my character, mock my religious beliefs, accuse me of sabotaging the show, and then unceremoniously fired me the following season once I gave birth." When Carpenter was six months pregnant, she says Whedon called her at 1 a.m., asking her to work, despite her doctor's recommendation that she shorten her work hours. "I felt powerless and alone," Carpenter wrote. "With no other option, I swallowed the mistreatment and carried on."
While Whedon's alleged mistreatment of Carpenter while she was pregnant was egregious, she also writes in her statement that Whedon was "mean and biting" toward others on set and fostered an abusive environment. Whedon has not yet responded to Carpenter's claims.
Following Carpenter's allegations, other Buffy stars spoke out against Whedon.
After Carpenter spoke out about Whedon's alleged abuse on set, a chorus of her Buffy co-stars came forward to stand alongside her. "Buffy was a toxic environment and it starts at the top," Amber Benson, who played Tara, wrote in a tweet. "There was a lot of damage done during that time and many of us are still processing it twenty plus years later." Eliza Dushku, who played Faith, thanked Carpenter for her bravery, writing in a statement posted to Instagram, "Your post was powerful, painful and painted a picture we'll collectively never un-see or un-know … I hadn't known it and I won't forget it."
Sarah Michelle Gellar also responded to Carpenter's claims, writing in a statement posted to Instagram, "While I am proud to have my name associated with Buffy Summers, I don't want to be forever associated with the name Joss Whedon." While she declined to speak further on the subject, she added, "I stand with all survivors of abuse and am proud of them for speaking out." After Gellar shared her statement, Michelle Trachtenberg, who played Buffy Summers's sister Dawn, reposted it to her own Instagram as is; then, later on, she amended her caption to include her own experiences. There was a rule that "he's not allowed in a room alone with Michelle again," she wrote of Whedon, adding that his behavior with her "as a teenager" was "not appropriate."
Eliza Dushku, who played vampire-slayer Faith in the series, Instagrammed her own statement of support for Carpenter on Friday. "CC, my heart aches for you and I'm so sorry you have held this for so long," she wrote. "Your post was powerful, painful, and painted a picture we'll collectively never un-see or un-know. Thank you. I hadn't known it and I won't forget it." Dushku, who in 2018 received a $9.5 million settlement from CBS over the sexual harassment she says she experienced on the series Bull, went on to add that "neglecting to name the power/gender/sexual/racial abuse in the entertainment industry … enables the abusers and only emboldens and ultimately fortifies abusive systems."
"May you [Carpenter] and countless others feel the solidarity and connection you have likely missed for too long. From courage, come change and hope," she said. "It starts and will end because of courageous truth-tellers like you."
Whedon's ex-wife has accused him of posturing as a feminist to hide his infidelities.
Whedon has been vocal about his identification as a feminist, but according to his now-ex-wife, Kai Cole, it's an act. In 2017, Cole wrote an essay for The Wrap, addressing their divorce after 16 years of marriage. In it, she details Whedon's eventual admission, in a letter she says he wrote her near the end of their relationship, to more than a decade's worth of infidelities. "As a guilty man I knew the only way to hide was to act as though I were righteous," the letter read, according to Cole. She also said he told her: "It's not just like I killed you, but that I'd done it subtly, over years. That I'd been poisoning you. Chipping away at you."
"He deceived me for 15 years, so he could have everything he wanted," Cole said. "I believed, everyone believed, that he was one of the good guys, committed to fighting for women's rights, committed to our marriage, and to the women he worked with. But I now see how he used his relationship with me as a shield, both during and after our marriage, so no one would question his relationships with other women or scrutinize his writing as anything other than feminist."
A rep for Whedon said Cole's "account include[d] inaccuracies and misrepresentations," but ultimately declined to comment "out of respect for his ex-wife."
Whedon has been skewered for his sexist first attempt at a Wonder Woman script.
Whedon has a history of creating strong (often they are literal superheroes) female characters, but typically those characters are white women who fit a very particular beauty standard, viewed through a distinctly cis-het male lens. (There is a whole blog, Joss Whedon Is Not Feminist, devoted to this topic.) Despite having described himself as a "woke bae" — arguably not the best way to signal one's sincere allyship — Whedon's initial script for Wonder Woman, which he wrote in 2006 and which leaked just before Patty Jenkins's movie came out in 2017, did not read as woke at all. Indeed, it read as a sort of male-gaze bodice-ripper.
"To say she is beautiful is almost to miss the point," as Whedon originally described Diana, played in the Jenkins version by Gal Gadot. "She is elemental, as natural and wild as the luminous flora surrounding. Her dark hair waterfalls to her shoulders in soft arcs and curls. Her body is curvaceous, but taut as a drawn bow … She is barefoot."
Other excerpts, splashed across Twitter, feature lascivious observations such as "Then she moves her back leg and turns, fluidly, a curve rippling up her body as she folds into a dance that is sensual, ethereal, and wickedly sexy."
It was gratuitously horny, and not a little objectifying — just very cringey stuff. But when Whedon went back and read the script, he saw no issue. He told Variety he felt that his characters had "integrity."
"I don't know which parts people didn't like, but … I think it's great," he said. "People say that it's not woke enough. I think they're not looking at the big picture."
Ah, yes, well. Perhaps "not woke enough" was never really the problem.
This post has been updated.