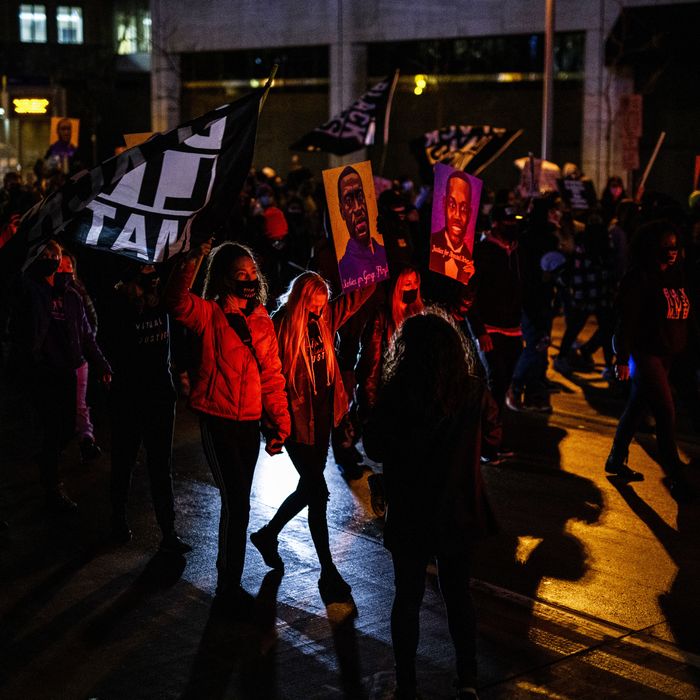 Photo: Stephen Maturen/Getty Images
On Sunday, roughly ten miles from where former police officer Derek Chauvin is on trial for George Floyd's murder, another Black man was killed by a cop. Twenty-year-old Daunte Wright was shot in a Minneapolis suburb during a traffic stop — information Chauvin's defense attorney didn't want the jury to hear.
On Monday, the day after hundreds of protesters marched to the police department and another Black family was told their loved one was killed, Chauvin's defense was apparently concerned about impartiality and potential bias. This morning, during the third week of trial proceedings, lawyer Eric Nelson said that following the shooting, jurors should be sequestered in their hotels and questioned about their knowledge of Wright's murder. He argued that since one of the jurors lives in Brooklyn Center, the area where Wright was killed, and that others have ties to the city, they could be influenced following such a high-profile incident. He was also worried that jurors who don't believe Chauvin is guilty might be nervous to clash with the public outrage that follows police shootings.
Prosecutors opposed this request: "We can't have every single world event that might affect somebody's attitude or emotional state or anything be grounds to come back and re–voir dire all the jurors," said state attorney Steve Schleicher, adding that since media is now omnipresent, sequestering people is futile.
The judge rejected the defense's request on the grounds that Wright's case is totally separate and isolating jurors might cause them to think their safety is at risk. It was the latest setback for a defense team that has struggled to make the case that Floyd died from a drug overdose rather than from Chauvin's knee bearing down on his neck for nine minutes. In the past few weeks, the prosecutors have called on more than 30 witnesses, ranging from bystanders giving emotional testimony about watching Floyd die while the police ignored their concerned cries, to medical experts who testified that Floyd died from a lack of oxygen, to the Minneapolis Police Department chief, who said Chauvin's restraint violated protocol. But despite this testimony and the harrowing video footage of Floyd's death, it is difficult to convict police of murder or manslaughter, both of which Chauvin has been charged with.
Meanwhile, the officer who shot Wright has been put on administrative leave. His death follows a disturbing pattern of police brutality: In the past year, almost 200 people have been shot and killed by officers, and Black Americans are twice as likely to be victims than white people. On Sunday, Wright called his mother, Katie, to say the cops had pulled him over for having air fresheners dangling from his rearview mirror. Next thing she heard was tussling, followed by a voice crying out, "Daunte, don't run." When she called her son back, his girlfriend answered and told her Wright had been shot.
Police say that after pulling Wright over, they attempted to arrest him upon discovering he had an outstanding warrant. When he tried to get back in the car, a Minneapolis police chief said an officer fired at Wright by accident, allegedly mistaking his gun for a Taser. (On body-cam footage, the cop can be heard saying, "I'll Tase you! I'll Tase you! Taser! Taser! Taser!," before shouting, "Holy shit, I just shot him.") Wright's car traveled a few blocks before ramming into another vehicle. He was later pronounced dead at the scene, while his girlfriend, who suffered non-life-threatening injuries, was taken to a hospital. Wright had a 2-year-old son, and according to his family, he had been on his way to get his car washed.
"He was only 20 years old, and he didn't deserve to be shot and killed like this," Wright's mom told a crowd gathered at the crime scene on Sunday. "I just want my baby home."