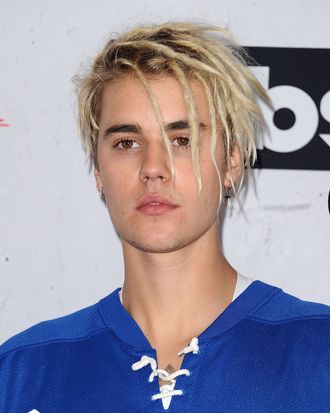 Whyyyyyyyyyy
Photo: FilmMagic
Well, here we are again; it is a Tuesday in April, and pop star Justin Bieber has dreadlocks. I do not actually remember Bieber's first foray into white-guy dreads, my brain having dutifully discarded the memory on contact. (Thanks, brain.) But some cursory Googling makes clear that he did in fact wear his hair this way for a minute in April 2016 and that many people were (rightfully) offended. But it appears none of those criticisms — that he appropriated a Black hairstyle to underscore how "being weird is fun," in his words — were enough to keep Bieber from giving locks another spin. He announced their return in an Instagram post on Sunday, ominously captioned: "Back in action."
Oh dear. Are we?
Unfortunately, that looks like a hard yes. Here is his head, seen from another angle:
And, sigh, yet another:
They have also taken up residence in his profile picture, a choice that signals commitment to me. This is unfortunate, particularly given that we went down this road five years ago. When Bieber debuted locked hair at the 2016 iHeart Radio Music Awards, he immediately faced backlash for blithely treating Black identity as a fashion statement. "'You want to be Black' and all of that stuff people say," he remarked to Big Sean at the event, according to the Guardian. "I'm like, 'It's just my hair.'" Months earlier, Bieber also got cornrows on a Caribbean vacation, a decision he seemed to know was bad even as he posted about it. ("Hailey made me get corn rows like an absolute douche bag," read the caption.) Then again, he also defended a cornrowed Kylie Jenner against Amandla Stenberg's criticism that Jenner "appropriate[s] Black features and culture" for clout. All of which to say … it is unclear how much of the feedback has been internalized.
Anyway, what's notable here is that since the murder of George Floyd last year, Bieber has publicly acknowledged how much his career has "benefited off of Black culture." He has also "committed to using [his] platform from this day forward to learn, to speak up about racial injustice and systemic oppression, and to identify ways to be a part of much needed change." Apparently in service of that goal, he inserted clips from two of Dr. Martin Luther King Jr.'s speeches into his most recent album, Justice, in between songs about how hot he finds his wife. Journalist Brittany Spanos wrote that the juxtaposition of "our most iconic civil rights leader" with horny ballads felt both "shockingly jarring" and "empty," even if it was well-intentioned. "There are no songs sung from Bieber's lips about the racial justice, freedom, and equity that Dr. King died for," she pointed out. "The justice Bieber seeks is for himself and how he is perceived; what he wants is to feel heard by the world as a misunderstood young white man."
Bieber subsequently explained, w/r/t the "MLK Interlude," that "this is me doing a small part. My part. I want to continue the conversation of what justice looks like so we can continue to heal." Hm! Is really all I can think to say about that. Maybe he should stick to mustache rebellion instead.