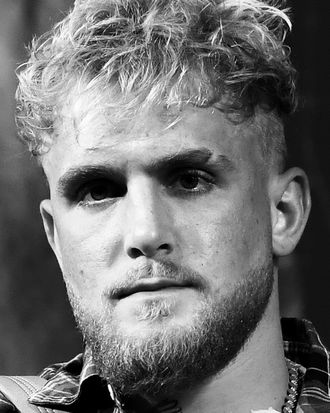 Jake Paul.
Photo: Ethan Miller/Getty Images
YouTube vlogger, wrestler, and all-around internet villain Jake Paul has been accused of sexual assault by TikToker Justine Paradise. In a YouTube video posted April 9, titled "TRIGGER WARNING: Jake Paul Sexually Assaulted Me," Paradise said that Paul forced himself on her in the early hours of July 20, 2019.
Paul's attorney, Daniel E. Gardenswartz, told the Washington Post that his client "categorically denies" the allegation, and "has every intention of aggressively disproving it and pursuing legal action against those responsible for the defamation of his character."
In the video, Paradise says she first met Paul — known most widely for his chaotic engagement and probably fake marriage to fellow YouTuber Tana Mongeau — through a mutual friend in June 2019. In the month and a half leading up to the alleged assault, she says that she and Paul exchanged texts and had a flirty relationship. However, she says, in person, she felt their relationship was uncomfortable. "He would ask me to come over, I would, and then when I was there, he wouldn't talk to me," says Paradise, explaining that he often texted her while they were in the same room together. "I'm just assuming he always got what he wanted and never had to build social skills and, like, talking to people — girls basically just throw themselves at him, which is what I was seeing there."
One night, she says was visiting the Team 10 studio (part of the Team 10 mansion where Paul lived with his now-defunct "influencer squad") and claims Paul pulled her into a corner and started kissing her. "I was fine with that. I did think he was cute, I did want to kiss him," she says in the video. She says that after kissing her consensually, Paul took her into his room, where they had a conversation, danced, and then started kissing again. "Normally, everybody respects me when I don't want to do sexual things," she says in the video, "so I thought it would be fine if I went into his room, and I thought it would be fine to kiss him, because I thought he would stop if I didn't want to do anything else. That's normal, that's what you do."
While they were kissing on his bed, Paradise says she repeatedly made clear through her body language that she didn't want to go any further than kissing. After a while, Paradise says, Paul stopped kissing her and said along the lines of, "If nothing is going to happen, then what's the point?" After that, she alleges he rose from the bed, grabbed the back of her head, and forced himself on her orally.
On April 13, Paul released a statement via Twitter, in which he claimed that, as a "momma's boy," he respects "women and mothers more than anything" and said he never had a sexual relationship with Paradise, who he refers to as "this individual."
His statement also accuses "this individual" of using the attention from her accusation to promote "her adult content site and Amazon shopping list," neither of which are linked in Paradise's video or social media posts about the alleged assault.
Paradise responded to Paul's statement via Instagram stories, writing, "I wasn't even aware that I still had an amazon wishlist. […] I am not looking for gifts or money. I made it very clear that all I wanted from him was an apology. And for him to stop doing this to people."
Neither Paul nor Paradise responded to the Cut's requests for comment.