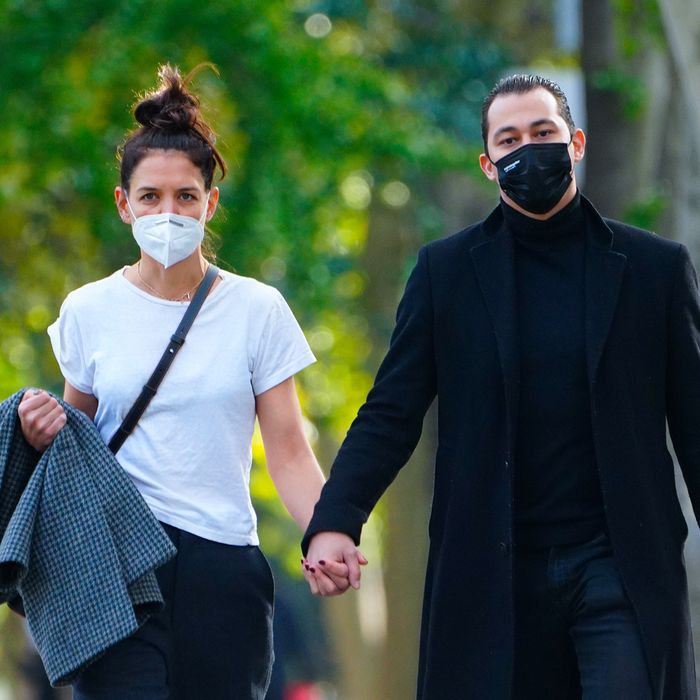 Say it ain't so.
Photo: Gotham/GC Images
For months, Katie Holmes and her pasta scion BF, Emilio Vitolo Jr., have been furiously making out all over Manhattan. On Wall Street! In Central Park! At his father's restaurant, Emilio's Ballato, as well as a number of other eateries including but probably not limited to Peasant in Nolita and Antique Garage in Soho! The existence of a sexy pasta scion in Katie's orbit initially felt like an intriguing change of pace from her longterm and intensely private relationship with Jamie Foxx, but now it appears the PDA is cooling.
A source tells Us Weekly: "They've agreed to give each other space. They both have a lot of commitments piling up." Another source also indicated to Page Six last week that "Katie has a lot of big priorities in her life — she's a single mom, her daughter always comes first and things were moving very fast."
This assessment stands in stark contrast to what the sources were saying in September, which occasionally carried a whiff of judgment. "Everyone is surprised by the way this romance happened and how open Katie is being about her new man," somebody told the Daily Mail in September, adding that "some of her relatives [were] upset" and unable to "understand why Katie acts like a teenage girl in love." Granted, it had just come out that Vitolo allegedly dumped his live-in fiancée, via text, right around the time paparazzi photos of him and Katie published. That could have had something to do with the relatives' tepid reception of the relationship.
Anyway, that was then and this is now, and while I am not in a position to say that mutual distancing definitely means they're over, taking space often reads as the prelude to the break-up. Just look at J.Lo and A-Rod: First it was conflicting work schedules, then it was a joint statement confirming their split. But who can know for sure? Whatever happens, will always have the many many make-out memories.