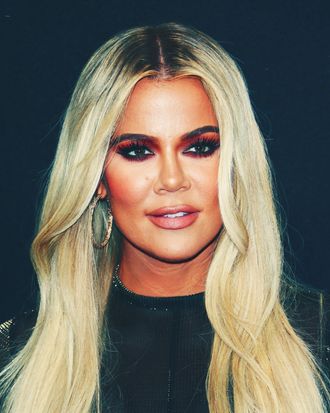 Photo: JEAN-BAPTISTE LACROIX/AFP via Getty Images
Yesterday evening, Khloé Kardashian posted a lengthy statement on Instagram in regard to a photo of her in a bikini that was mistakenly posted on social media earlier this week.
The image, which has since gone viral, prompted a very intense takedown request from a Kardashian lawyer. Since then, Kardashian attempts to scrub it from the internet have only exacerbated its virality, prompting Khloé's statement on Wednesday.
Here's what happened.
So, who posted the original photo? 
The original photo, which shows the 36-year-old in a leopard-print bikini by a pool, seems to have been posted by the Kardashians' grandmother, MJ, who is now 86, or one of her assistants. In any case, it appears to have been mistakenly shared on her Instagram without getting Khloé's stamp of approval. It was then reshared by the social-media account @KosmeticKrys, a cosmetic and plastic surgery consultant, on Twitter and Instagram.
What was the public reaction? 
The image went viral, because it is rare to see an unedited Kardashian photo in the wild. And while trolls are always going to troll, there were a lot of positive comments from fans about how "normal" she looked. As one Twitter user wrote: "Khloé Kardashian's unedited bikini pic is fire … It's actually really nice to see what an unedited, unposed Kardashian body looks like."
As for @KosmeticKrys, the owner was briefly locked out of their Twitter account in response to a complaint they received from MJ's lawyer, who appears to have submitted a DMCA (Digital Millennium Copyright Act) notice in regard to the photo.
However, only @KosmeticKrys's Twitter was shut down, and the photo remained on its Instagram stories for a time (both its Twitter and Instagram accounts are currently active).
What was Khloé's reaction? 
First, she took to IG Live on Wednesday, posting a video in which she stripped down from a sweatsuit to prove she "isn't Photoshopped."
Afterward, she posted a four-page statement. "The photo that was posted this week is beautiful," she wrote. "But as someone who has struggled with body image her whole life, when someone takes a photo of you that isn't flattering in bad lighting or doesn't capture your body the way it is after working hard to get it to this point — and then shares it to the world — you should have every right to ask for it to not be shared — regardless of who you are."
The statement opened with a set of videos of Khloé posing mostly nude. "Yes I did a live to show you all this isn't Photoshopped 😝" read the caption.
Anything else?
For now, that's pretty much it. As is often the case with the family, it's a queasy situation, given the (largely harmful) impact the Kardashian family has had on beauty standards across … the world? But in the grand scheme of Kardashian kontroversies, it's likely this one will soon be overshadowed by the next.