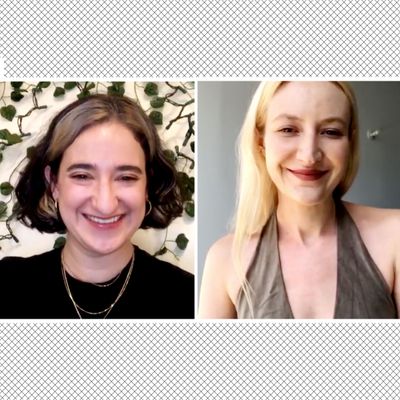 Photo-Illustration: by The Cut
Sarah Kinlaw, also known as Kinlaw, is a Brooklyn-based singer and songwriter, but was first known for being a master of choreography. She produces incredibly visual performances (such as her most recent composition and choreography, The Sigh of My Hand) that bring a new level to her music. She has taken an experimental approach to production by building movement into her songs and creating music that she describes as "body first." Her debut album, The Tipping Scale, released in February, is reminiscent of Caroline Polachek (who is also someone she has collaborated with) in its emotional undertones and is full of eccentric beats that will make you want to dance, cry, and stare longingly out your window.
Kinlaw joins our latest Cut Chat to talk with the Cut's senior editor Kerensa Cadenas about The Tipping Scale, her unique approach to music, and fan interpretations of her album.
On hearing her fans' interpretations of The Tipping Scale and her music in general: "Anytime I'm able to hear another person's perspective and how they connect emotionally to something [is important]. That's the stuff. I appreciate that people trust me enough and feel comfortable enough with to share those things with me."
On the meaning of her music: "Listening to [the album] as a cohesive work, I can't help but be struck by how interchangeable some of the themes are. I may write it about a certain person or specific day or specific feeling and then come to find out that I'm starting to see a theme. I try not to speak for anybody else. You can continuously evolve the lens it comes from and still have it be really meaningful."
On movement working with music: "A lot of us incorporate authentic gestures when we talk. Sometimes, when I'm really thinking about it, you see how gesture, hand motion [and] the face carry a lot of information. When I say I write with movement, that's what I mean."
To hear more about Kinlaw's creative process, her approach to throwing the "perfect" virtual party, and working with her friends (the artists she loves the most) watch the full video above or on Instagram.