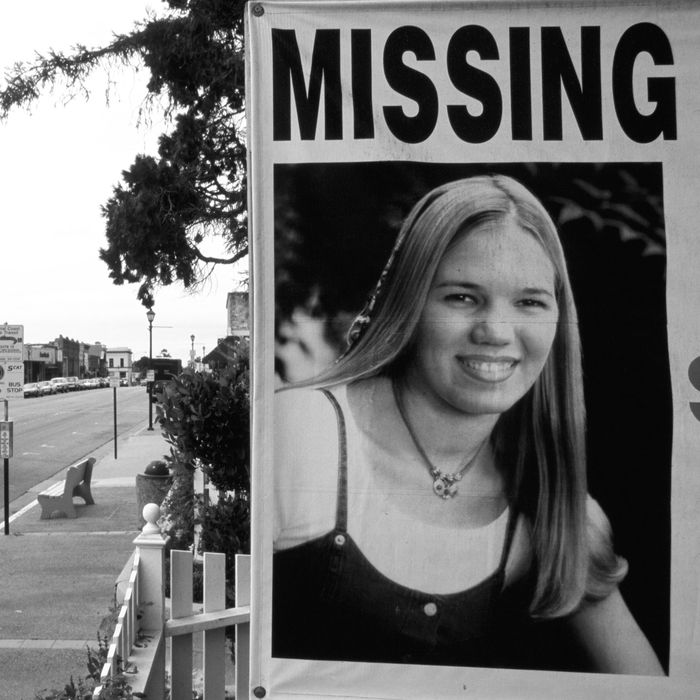 Kristin Smart
Photo: Axel Koester/Sygma via Getty Images
More than two decades after college student Kristin Smart mysteriously vanished after an off-campus party, two men have been arrested in connection with her disappearance. On Tuesday, Paul Flores, 44, was booked on suspicion of murder, and his father was arrested as well, the San Luis Obispo Tribune reports.
As noted by San Luis Obispo County sheriff Ian Parkinson during a news conference yesterday, Flores has long "remained a person of significant interest," and was recently upgraded to be "the prime suspect in the case." After Smart went missing in May 1996, when she was a 19-year-old freshman at California Polytechnic State University, authorities immediately questioned Flores, one of the three students who admitted to walking Smart part of the way back to her dorm the night she disappeared. However, Flores was never arrested nor charged in the case.
While Smart's body was never found, she was legally declared dead in 2002 — but local law-enforcement officials made few significant developments over the following two decades. Then came the 2019 release of the true-crime podcast Your Own Backyard, which focused on Smart's disappearance and injected renewed interest in the case. Parkinson credits the podcast with helping them crack the case, disclosing that following its release, new witnesses came forward and more warrants were executed. Last year, investigators searched the property of Flores's father, Ruben Flores, where they found "items of interest." They then conducted an additional search last month, where Parkinson says "additional evidence related to the Smart investigation was discovered."
While Parkinson said that investigators still have not found Smart's body, he revealed that "forensic physical evidence was located" on Ruben's property, and authorities "believe it's linked to Kristin."
This evidence led to arrest warrants, which were served simultaneously on Tuesday. Flores was arrested in Los Angeles County and booked on suspicion of a charge of murder, and is currently being held without bail at San Luis Obispo County Jail. Flores's father was also arrested and booked on suspicion of a charge of accessory. His bail was set at $250,000.
For the Smart family, yesterday was a "bittersweet day," they said in a statement released through a spokesperson.
"It is impossible to put into words what this day means for our family; we pray it is the first step to bringing our daughter home," the statement continues. "While Kristin's loving spirit will always live in our hearts, our life without her hugs, laughs, and smiles is a heartache that never abates. The knowledge that a father and son, despite our desperate pleas for help, could have withheld this horrible secret for nearly 25 years, denying us the chance to lay our daughter to rest, is an unrelenting and unforgiving pain. We now put our faith in the justice system and move forward, comforted in the knowledge that Kristin has been held in the hearts of so many and that she has not been forgotten."
Both Flores and his father are expected to be arraigned on Thursday.
This post has been updated.