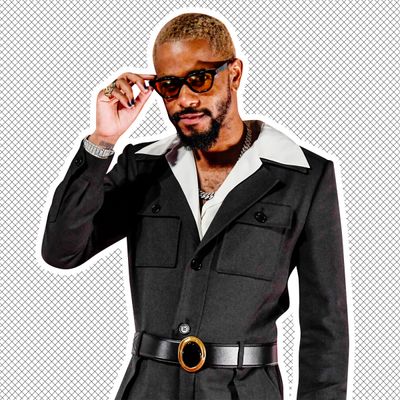 Photo-Illustration: by The Cut; Photos: Getty Images
If there's one look from the Oscars red carpet last night that got people talking, it was actor LaKeith Stanfield's gender-bending, perfectly fitting, super-sexy Saint Laurent jumpsuit. He may not have won the award for Best Supporting Actor for his role in Judas and the Black Messiah, but he took home the prize for Best Dressed in my book.
It can be difficult to articulate what makes an outfit great. On a surface level, you can talk about tailoring — how well this jumpsuit fits Stanfield, how its lines complement the lines of his body and the easy, fluid way he carries himself. You can talk about its context within fashion — how it not only references a look from Saint Laurent's spring-summer 2021 women's collection but also Yves Saint Laurent's famous Le Smoking tuxedo from the mid-'60s. You can also talk about it in the context of the Oscars red carpet — how it so elegantly combines casual and formal and carries an otherwise traditional (boring) dress code into an exciting, modern era. And, of course, you can also just talk about how damn good Stanfield looks.
Clearly, after such a long fashion drought, people are really just craving a conversation about clothes — myself included. So I called up Stanfield's stylist, Julie Ragolia, this morning for a 20-minute discussion on his jumpsuit and how the look came together.
Hello! What a night! How have the past 24 hours been for you?
Well, I style Riz [Ahmed] and LaKeith, so it's been an international whirlwind.
Not one but two great looks! I imagine you've slept very little.
Very little, yeah [laughs]. Especially as everybody has been on different time zones. But it's all good. It's been fun.
I'd love to chat with you specifically about how LaKeith's look came together. When did the process begin?
I mean, in a sense, the process began with the second LaKeith and I started working together. When it comes to dressing him, it's a constant conversation about who he is as a person. That's always the approach that I take as a stylist: telling stories about human beings through clothes. He's so thoughtful and playful at the same time.
But in terms of the Oscars, specifically, the second he was nominated, I thought of Saint Laurent and that spring-summer [2021] collection. There was something about it that had always stuck with me. I don't look at collections as necessarily menswear and womenswear. So when LaKeith was nominated, it appeared almost like an apparition in my head. I was like, Wait, how cool would it be to adopt something from the women's side? And also, at the same time, hark to the history of Saint Laurent and the modernity that Anthony Vaccarello brings to it.
It's a perfect match of outfit and person; they really complement each other. You mentioned the history of Saint Laurent. Could you give us the SparkNotes in terms of what's being referenced here — i.e., the famous Le Smoking tuxedo suit, which was a very sleek, sexy, feminine take on a traditional, buttoned-up men's look?
If you think about the history of Yves himself, and the iconic aspect of who he was and what he stood for and continues to stand for, in our industry — the Le Smoking and this ability to play with gender yet also eliminate gender descriptions — it just came out so perfectly yesterday. In fashion, we have this amazing opportunity to break down barriers and to help people understand things in a different way through clothes. So if we can talk about these things in subtle, irreverent, and playful ways, I hope it engages and arouses a certain curiosity. I mean, we're not going to write a history book through what we've done with this outfit. But if we can just get people to dig a little further, then we're telling a fashion story that goes bigger than one look, because you're intrigued.
Yes! Personally, I want to know more. It's why I got in touch with you as soon as I woke up this morning. What are your thoughts about the dress code? The producers requested "inspirational and aspirational" looks and frowned upon casual. Did this influence your work at all?
This Oscar season, we're all so conscious of what's happening in the world and how to be respectful to that. At the same time, we also wanted to do something that is celebratory for LaKeith. It's a balance of a certain respectability and still telling an aspirational story.
I took it as less of a dress code and more of an invitation. Inspiration is everywhere. Aspiration is, for me, a call to do better. In terms of LaKeith, it was twofold, I guess. Like, Let's make a jumpsuit that is inspired and may inspire others. Saint Laurent also has a strong dedication to sustainability, and his look was made from sustainable materials. That was very important to us.
I'd love to look a little closer at all the amazing details in this outfit. What were the conversations about the design like?
LaKeith is such a fluid figure — he just has such an expressive body. As a stylist, I think of things from a sculptural perspective. So if you look at where the collar goes, and the degree of white showing, and how it draws down to his waist and then to the slimness of his legs … It just gives such sculptural point of view to his features. He's a tall, beautifully lean human. He's so fun and dynamic. I mean, it's Anthony's genius from what he did on the women's side. And then taking that to this fluid human being.
I'm so glad that you mention movement because this look makes me want to dance. The collar and silhouette is very disco to me. The belt is classy but also kind of sexy too. Do you have any thoughts about that accessory in particular?
I was very specific about the belt. Again, it comes down to the sculptural aspect of finding points of vision. I think about it like a photograph as a whole. I liked the belt because it had a textural quality, but also it was open in the center. It just gave you space but was also something very grounded. I felt like it tied the look together, just as an enhancement. It was subtle but present, giving space but having strength.
There's a really nice balance between the belt, the necklace, and the sunglasses. I mean, I could stare at this look forever. But I'm so grateful that we got to talk about it for 20 minutes today.
I'm so grateful that it resonated so well! It's so special. To be honest, I didn't know it would have so much impact. We just created this beautiful thing that felt like it summed up everything about LaKeith. As a stylist, I feel really content because I feel like his story is being seen through that outfit.
This interview has been edited and condensed.