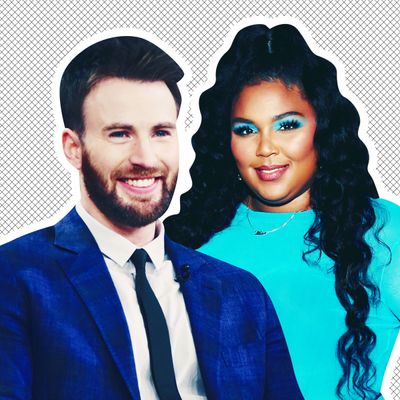 What if they kissed?
Photo-Illustration: by The Cut; Photos: Getty Images
A whole lot of flustering content from the celebs this weekend, some good and some embarrassing: Zoë Kravitz and Taylour Paige with their glowing faces smashed flirtily together? Big yes! Travis Barker posting raw footage of a thumb-sucking incident in celebration of GF Kourtney Kardashian's 42nd birthday? Overwhelming no from me! Lizzo drunkenly DMing Chris Evans only to open a dialogue that — as far as I know — remains fluid? Hell yeah, let's chase that feeling.
The situation started on Saturday, when Lizzo got a little tipsy and decided to say hi, sending Evans a direct message composed of three emojis — gust of wind, lady playing handball (?), basketball — on Instagram. The next morning, she posted evidence of the poke to TikTok with the warning, "Don't drink and DM, kids." The singer and renowned flautist went on to explain, "The reason I'm upset about this one is because I know I'm not going to be able to marry him, and honestly, it hurts me to the core." In Lizzo's estimation, Evans is "a rare breed" beyond comparison with other hunks and presumably also other Hollywood Chrises. And yeah, I will say the man can wear a sweater.
Now, maybe to you, that sequence of emojis feels inscrutable, a non sequitur, but to party Lizzo, it meant, Here I am, shooting my shot. The pair did not follow one another at the time, but now? Evans not only followed Lizzo after opening her message, he came back with a cheeky reply that she shared in a follow-up TikTok. "No shame in a drunk DM," he wrote, adding a kiss-face emoji for spice. "god knows I've done worse on this app lol." Here, Evans is likely referring to that time he accidentally Instagrammed one of his own dick pics. Oops.
Anyway, the key takeaway is that the channels are open, Lizzo and Chris Evans are now in active communication, and, to my knowledge, both of them are single. So! Without piling any pressure on top of a casual exchange, I would humbly suggest that they simply … see where this banter takes them. Maybe they could swap a couple of memes, share a little kiss? The point is that they're talking! And that, friends, is why you always shoot your shot.