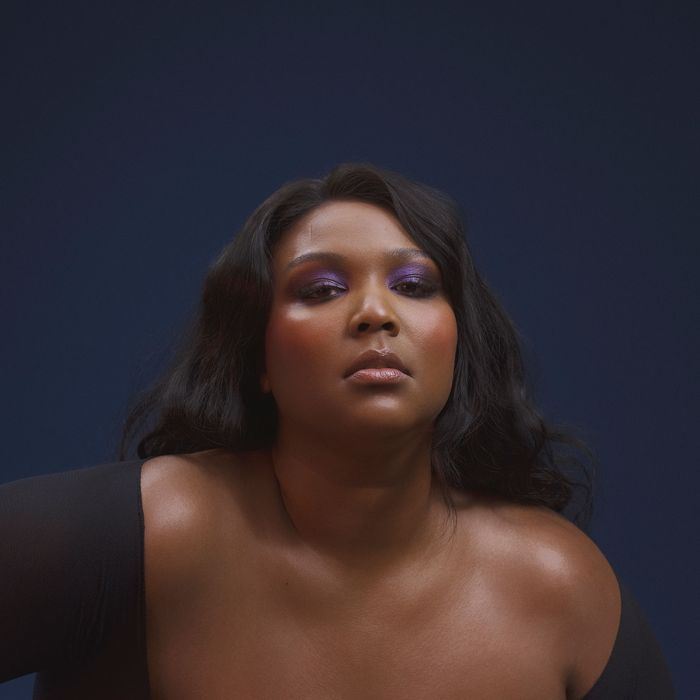 Last week, Lizzo posted a naked selfie on Instagram to announce herself as a partner in the Dove Self-Esteem Project. The project has been around since 2004 and provides information to parents and mentors on how to combat issues young teens face, such as bullying and low self-esteem.
Lizzo has been using her social-media platforms to promote self-love and body positivity for years now, so it makes sense that she'd sign on to promote Dove's new film, and the The Selfie Talk campaign, about the confidence-destroying impact of retouching apps. The ad encourages adults to talk to teens about how social media isn't real. "I felt like our messages were parallel," she says. "This is really, really important to me — helping young people in the way they view themselves, and helping me and the way I view myself on the internet."
The Cut talked with her about a moment versus a movement, true self-love, and the difference between body positivity and normativity.
On your social-media platforms, you often post about the good and the bad in your self-love journey. What's your relationship with social media like right now? Why do you think it is important to share both sides?
It's a part of bringing that realness to social media. I would look at people and be like, Wow, are their lives really that perfect? Do they really look like that? Is their skin really like that in the morning? Are their lashes really like that? Of course, I'm here for the fantasy, I love giving y'all a little scootch and a boo on the internet, but I also need to share with you when I am not feeling good about myself and also when I'm in my natural state.
Did you ever have a "selfie talk" with anyone?
When social media came in, I was like, "Wait a minute now. Are people really that perfect?" My friend said, "No, you have to understand everybody modifies. These photos are altered. This isn't real." It was so eye-opening. I was believing everything I was seeing. A child is going to look on the internet and believe everything that they see. That's why the selfie talk is so important, because if I didn't know, I know that they don't know. It's so harmful to your self-image to see somebody with an unobtainable body or beauty standards, and be like, Wow, I will never look like that. But they'll also never look like that.
You've said that fat women, and specifically Black and brown fat women, have been left out of the body-positivity movement. From your viewpoint, how did this happen and how can people be better allies to the movement? 
We can't get left out of something we created, because it is ours. But I think we have been left behind and grossly neglected when it's been taken to the mainstream, once it's been cleaned up and commercialized. It's turning into something that is almost a negative space for fat bodies and brown bodies. Everyone can be body positive; everyone needs to participate in having self-love. That's the beautiful part of how the commercialization of the body-positive movement has transpired. But we need to give credit and protection to the original creators, because they're the people who need it the most.
There's even a lot of very triggering and fat-phobic behaviors that have come from the body-positive movement. There are things like body checking, and comparing sizes, or shaming sides. Like, Oh, it's midsize girls' turn; big girls, you've had your moment. Huh? It's not about a moment. It's about this system that oppresses big bodies.
People [need to] understand the gravity of this movement and honor the reason why it was created. Don't be like, Cute. I'm gonna love myself today, and that's body positivity. It's more like, No, I'm gonna love myself and thank goodness for the fat women who paved the way and were vocal about it.
How do you feel about body normativity versus body neutrality? Do you ever feel like social media, or society in general, causes you to think too much about your body?
Absolutely. With Instagram and TikTok, you're putting yourself out there for the entire world to see. That's your face. That's your body. That's your hair. That's your skin. That's your personality. We have been forced to face ourselves. I think that's a good thing in a lot of ways, because that's a great gateway into falling in love with yourself. But it's also a gateway into nitpicking yourself and being overly critical of yourself and hating yourself.
I don't know exactly the details of what body neutrality is. But when I say I just want to be body normative, I'm not trying to create a whole new movement. I just mean what you're looking at is normal. Let's stop talking about it. This is my body, nothing to see here. Keep it moving.
I hope that I can post the kinds of materials that I post, showing my body and showing my rolls or whatever. And people are just like, Okay. Beautiful picture. Next. Instead of, like, Oh my gosh, a full-figured body. How strikingly political! It don't gotta be all of that! That is where I'm going with body-normative-speak.
So what's your relationship like with social media now? Do you think you have a healthy relationship with it?
I do. I have edited a lot. The Dove Self-Esteem Project has a tool called the Confidence Kit. It says, Hey, you know, you could just log off. You can unfollow somebody. You can curate your internet experience so that you're not looking at things that are potentially harmful to you. These are all lessons I had to learn the hard way. I had to delete apps off my phone. I'm still not on Twitter. I had to learn to find people who look like me, women who have bodies like mine, Black girls, girls who have hair like mine and smiles like mine. I believe that that has greatly improved my relationship with social media. A young person can learn that before it gets out of control, and that will make so much of a difference.
Parts of this interview have been edited and condensed for clarity.