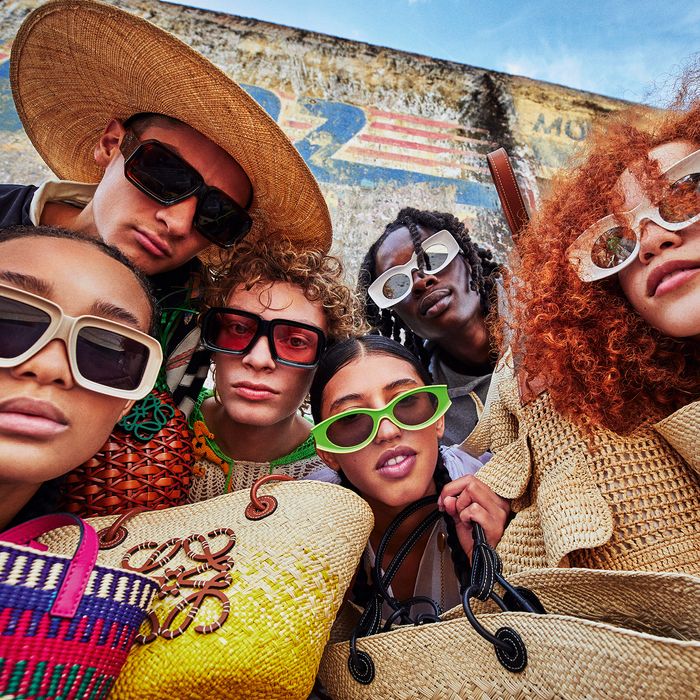 Whether you're a devoted follower of fashion trends or a determined individualist who steers clear of them at all costs, we can probably all agree on one objective fact: Those Loewe sunglasses are really good.
You know the ones. They debuted over a year ago in a tropical capsule called Paula's Ibizia — an ode to summer in the city. The Paula sunglasses are oblong, with a geometric frame and ovular lenses. Loewe branding is printed at the hinge, and the label's monogram is stamped at the temple tips. Not long after they were released, they were everywhere, becoming so ubiquitous that Canal Street vendors began selling them in their front displays. Everyone from uptown fashion girls to downtown cool kids wore them.
For 2021, Loewe's Paula's Ibiza introduced two new styles for the masses to gobble up. One is similar to the OG, with a more ovular frame to match the shape of the lens; the other is a riff on the classic rectangular aviator. Personally, I absolutely need the beige aviators — the most granny of all the Loewe goggles. The original Ibiza boutique that the capsule is named after became a famous destination for stars like Freddie Mercury and designer Valentino in the 1970s, which is the vibe for summer 2021 — and will remain the vibe for a long time after that.
"Summer is heralded as a way of being, not just a season — a mind-set that works all year long," Loewe designer Jonathan Anderson said, "a happily energizing one."
See the entire Loewe Paula's Ibiza collection here.