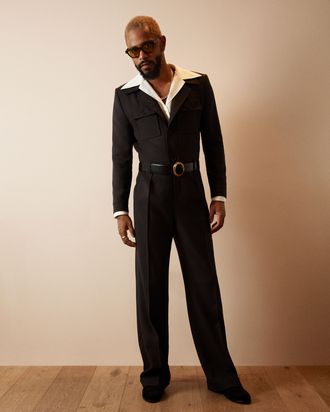 Sir!!!
Photo: Campbell Addy
It is time once again for the Academy Awards, an often one-note event in the arena of men's formalwear. This evening, however, we have already seen a few notable achievements in fun suiting — looking directly at you and your hot-pink sparkle tie, Colman Domingo, and also at you and your four-bar socks, Alan Kim; congrats all around — and one absolutely outstanding performance by a custom jumpsuit. That honor goes to LaKeith Stanfield in Saint Laurent, and … please, a moment or 20 of your time. However long you require, really, there's no time limit on this exercise:
Officially, Stanfield was nominated tonight for Best Supporting Actor, for his role in Judas and the Black Messiah; unofficially, he has already won the Oscar for best disco revival in an awards-show setting. This year's dress code may be a bummer, but Stanfield has inarguably nailed both the "Inspirational" and "Aspirational" requirements. What is your favorite part of this look? Is it the gently tinted shades? Or the razor-sharp lapels? Are the sporty breast pockets sending you? The crisply pleated pant? All worthy contenders, but it's the belt for me. Let's lean in for a closer look at this cinch:
I am also receiving reports, via Twitter, that Saint Laurent drew on a jumpsuit from the women's spring 2021 collection, which adds another layer of satisfaction to the whole thing. I can't exactly explain it; the effect here is beyond my power to describe. All the Oscars straight to LaKeith Stanfield, thank you for your time!