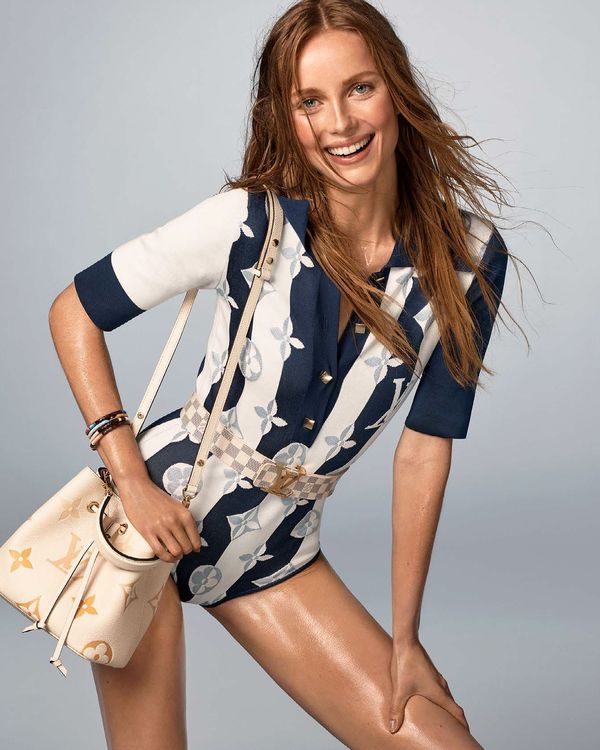 Presenting said outfit, courtesy of Louis Vuitton.
Photo: Courtesy of Louis Vuitton
I spent most of last week thinking about big butts and recovering from my second Pfizer dose. Between the two, I'm finally starting to feel the horny optimism of "hot vax summer."
In an article at the end of March, Insider talked to 20-somethings about their post-vaccine ambitions. One 21-year-old put it this way: "I'm most looking forward to having a ho phase. In my dream ho phase, I would be able to go out with friends, flirt with guys, and have the freedom to hook up with people solely to pursue my own sexual desires."
I too am very much looking forward to having my ho phase, but mine would also include looking hot in designer outfits. Still, accustomed to perpetual cozy clothes, I panicked when I realized that "hot vax summer" is creeping up on us. What to wear? Luckily, according to the Washington Post, there's rising demand for going-out clothes, which means retailers will respond accordingly by filling their racks with revealing outfits made to last one night.
That doesn't exclude luxury brands, although their pieces might last a little longer. One option for a perfect "whoring '20s" summer look is a polo bodysuit from Louis Vuitton's summer 2021 collection. It's a sporty and preppy style in parasol stripes overlaid with the brand's signature icons, complete with square brass buttons. The top half reads business casual, while the bottom could read as ho when worn without pants, which I'd obviously do. I like the idea of a body suit because it's so easy to slip on — perfect for easing yourself out of a year of lazy dressing.
Even if that's not your vibe, and I'm projecting my pent-up horniness on you, you're bound to get some inspiration from Louis Vuitton's summer 2021 collection here.