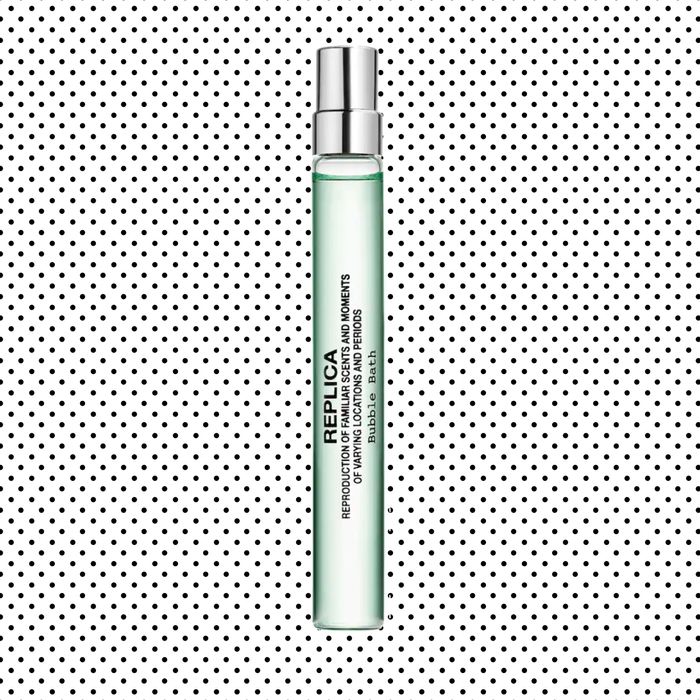 I wish I was the kind of person who liked mysterious, smoky perfumes, but the truth is that I usually just want to smell clean, or like I am on vacation. When it comes to scent, I am the light as opposed to the dark. I am daytime versus nighttime, I am the annoying early bird rather than the sexily hung-over party girl, and I am the just-washed rather than the mussed-up sheets. No one is more disappointed than I am that my taste is so boring. I blame all those early years of Cucumber Melon and Victoria's Secret Love Spray.
Maison Margiela Replica's new scent, Bubble Bath, is very much me. It smells like fancy baby laundry detergent. It smells clean (thanks to a lot of musk), but also coconut-y, with hints of rose. The notes are easy to understand: soap-bubble accord, rose superessence, white musk, and coconut-milk Accord. It smells like an open drawer of ironed baby onesies, or like a studio portrait of a baby wearing a fussy bonnet with live doves in the background. It's soft, pretty, and one of the least enigmatic fragrances ever. You'll find me wearing it out for my next 5 p.m. dinner.
Every product is independently selected by our editors. Things you buy through our links may earn us a commission.