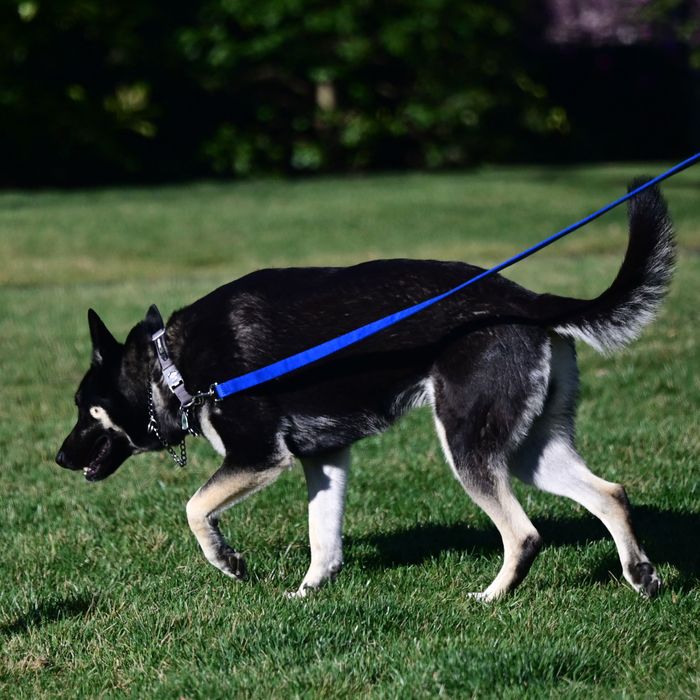 Major Biden.
Photo: JIM WATSON/AFP via Getty Images
First Dog Major Biden is back in the White House after two reports of light biting — he allegedly nipped two people! — and a poorly timed Poo Incident. (To be fair, nobody knows for sure who was responsible for that one.) He has reportedly completed his second round of remedial training, but will it be enough? Enough to help him cope with the constant rotation of strangers cycling in and out of his home? Enough to acclimate him to the forbidding presence of Secret Service agents looming around all the time? Enough to enable a peaceful coexistence with the cat the Bidens will be introducing into the mix any day now? I suppose there is only one way to find out!
In a Today Show interview aired Friday, First Lady Dr. Jill Biden confirmed that Major had indeed returned to the White House from his intensive behavioral course in Wilmington, Delaware. She said the training had been effective, and that it involved Major hanging out in an animal shelter with cats, in preparation for the road ahead. The interviewer was skeptical about Major's readiness to jump this latest adjustment hurdle, but Dr. Biden insisted that "he did fine" in feline company. This is good, because apparently the cat the Bidens set about adopting in November is now "waiting in the wings."
No word on when, exactly, the cat will arrive, but Dr. Biden's phrasing suggests touchdown is not far off. So, um, best of luck to Major, who is only three and who has already had a lot of large life changes thrown his way. And best of luck to the cat, who has huge celebrity boots to fill, or should I say … Socks?